Ricochet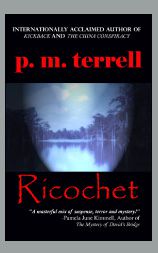 What happens when you\'re at the wrong place, at the wrong time? Murder, mayhem, and a trail that is so full of high-voltage action there\'s no time to catch your breath. Ride with Shelia Carpenter, FBI Academy student, and her mentor, Steve Moran, as they ricochet from State to State uncovering America\'s worst nightmare; one of murder, identity theft, and terrorism.
Shelia, the sole witness to attempted mass murder, accidentally discovers a cryptic note left by her Mother and against all odds, begins to unravel the complex story of what really caused her parents death never suspecting that ultimately, all would lead back to this trail of terrorism. Stay with Shelia as her final test becomes . . . to stay alive.
Reviewer\'s note: Ms. Terrell is currently writing her next book, an historical suspense/thriller inspired by the true story of Mary Neelley, one of her ancestors, who was captured by Shawnee Indians in 1780 at Fort Nashborough at the height of the Revolutionary War. This book is scheduled for release in the fall of 2007.