Life is Funny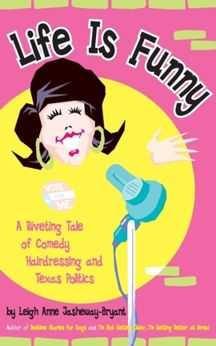 Leigh Anne Jasheway-Bryant
is called "The Accidentail Comic" but after you read her debut novel,
Life is Funny
, I\'m sure you\'ll agree that her humor writing is no accident. It\'s pure talent.
Life, politics, secrets that become front page news, hairdressers who give new meaning to the word dysfunctional, and our main loveable, witty character, Judy; a hairdresser UN-extraordinaire, who dreams of one day becoming a stand-up comedian.
Does she finally go for it? Uh huh. Sure does. Not only that, Judy uses tidbits overheard at "the shop" from one gubernatorial candidate\'s wife. Her monologue has everyone in stitches; well, everyone except the candidate; that is. Sparks fly and suddenly Judy finds herself running against him for office.
I won\'t spoil the read by telling all. I will say I was tempted to count the laughs I got out of this book but I can\'t count that high. Out loud funny yet uplifting, Life is Funny has it all.