Exit 22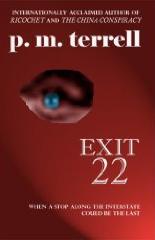 Christopher Sandige, a political strategist, had one thing on his mind; a vacation in Florida. Fate had other plans.
Driving toward his destination, Chris\'s car skids off the icy road in Lumberton, North Carolina at Exit 22. Knowing that\'s that until Monday, Chris settles into a nearby motel. In the restaurant, he meets a beautiful but mysterious woman named Brenda. The pair are drawn together by…physical attraction? No, although it\'s there. But first they immediately become entangled and targeted in a more sinister plan developed by some very powerful people in Washington, DC. All involves a double-homicide along with a plot in the oil industry that has deep pockets.
With the police after them for murders, and a top-notch, hired gun one step behind to silence them forever, the combined adventures will have your heart thumping till the last page. With never a break in the drama, you are taken on a ride of suspense, thrills, terror—the hit man promises you nightmares—and through it all, a quest for the truth. Who was behind it all? Is Brenda involved? Can Chris trust Brenda?
If you think you have it figured out during the book, think again. The ending paragraph will have you staring at the last page going, "but…but….what about…???" My guess is that Terrell has left the door open for more. But in all honestly, it\'s what you\'ll want. More. Another one of those "couldn\'t put it down" novels.