Danny the Dragon "Meets Jimmy"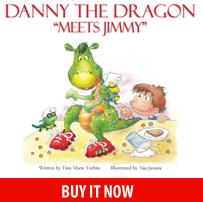 Superb illustrations by Aija Jasuna color the pages of this children\'s book by Tina Marie Turbin. Danny the Dragon and his sidekick, Skipper, befriend Jimmy and his family and the adventures are surely just beginning because the tale ends with Danny saying "I will tell you some other time. For now it is bedtime." An imaginative story of a dragon that travels around in a seashell and becomes larger, growing out of his shell when away from water. Jimmy helps him shrink back into his shell by spraying water on him, but can still hear and talk with him.
Jimmy invites his "new friends" to stay with him; Danny and Skipper agree to live there and their time together begins, one that Turbin is sure to expand on in future Danny the Dragon stories. I love Danny\'s red shoes and little blue backpack. I wonder about the interesting trips he and Skipper must have taken. Don\'t you think it will be fun to find out with the little reader in your house?