Frugal and Focused Tweeting for Retailers: Tweaking Your Tweets and Other Tips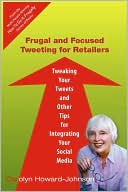 These days it seems like everybody and their sister either has a blog or is on Facebook, Twitter or LinkedIn –or all of the above – and talking about how great social media is and how much money you can make using these social marketing techniques.
If you haven\'t jumped on the bandwagon yet or if you have, but haven\'t figured out how to make any money as a result, don\'t despair. It\'s not too late to learn how to use these new media techniques to build profitability!
Carolyn Howard-Johnson, author of the multi award-winning "How To Do It Frugally" book series comes to your rescue with a trio of new books targeted at retailers who are just getting started with social networking. The three are part of her "Survive and Thrive" series for retailers.
Frugal and Focused Tweeting for Retailers: Tweaking Your Tweets and Other Tips for Integrating Your Social Media is the second book in Howard-Johnson\'s Survive and Thrive series for retailers and is designed to help any independent retailer become the go-to store in town or online, and to do it frugally.
The thing about Twitter is that while it\'s become the internet phenomenon of the decade – with seemingly everyone, including Oprah, Ellen DeGeneres and regularly tweeting, those who don\'t tweet often say they "just don\'t get it."
If you\'re a retailer who is not using Twitter for marketing, you need to read this book. Howard-Johnson, who has both a retailing and a marketing background, is here to show you how to "do it right" and integrate your efforts with your other marketing.
Of course, one of the main challenges to tweeting, if you\'re new at it, is that you are limited to 140 characters. Another is the terminology, which can be frustrating if you\'re a newbie. Like what is a "retweet," for example, or a geotag, hashtag, twitter moniker or direct message? And what the heck is "Follow Friday" – and why should you care?
Don\'t worry! Just get the book and Howard-Johnson will have you profitably using social media, including Twitter, in no time. And, considering how Gary Vaynerchuk was able to take his Dad\'s liquor store from a small local shop into an international phenomenon using social media techniques – he says they have been crucial to everything he has recently accomplished – this is definitely something you need to consider.
Finally, if you haven\'t heard of "Gary Vee," and the success he has built via social media, you need to check out tv.winelibrary.com.