A Retailer\'s Guide to Frugal In-Store Promotions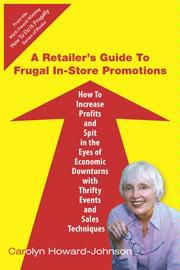 Are you a frustrated retailer, trying to figure out how to use in-store promotions to build both profitability and excitement? Carolyn Howard-Johnson, author of the multi award-winning "How To Do It Frugally" book series comes to your rescue with a trio of new books targeted at retailers who are looking fore ways to beat out competitors and make their stores the "go-to" place in your community.
A Retailer\'s Guide to Frugal In-Store Promotions: How to Increase Profits and Spit in the Eyes of Economic Downturns with Thrifty Events and Sales Techniques is the first book in Howard-Johnson\'s Survive and Thrive series for retailers and is designed to help any independent retailer become the most talked about store in town or online, and to do it frugally.
Retailers need more than crossed fingers to get and keep customers. In-store promotion – everything from in-store branding to events – is the most effective and economical way to do that. In this book, Howard-Johnson give retailers the benefit of her nearly three decades experience as founder and manager of her own chain of stores, as well as her experience as a New York publicist and her years as a retail consultant.
To start, Howard-Johnson advises you to be clear on your goals and focus on them as you lay out your plans. She points out that "retailing is nothing more than a series of fine details executed with heart."
The book includes a priceless section on what Howard-Johnson calls "frugal oomph builders" many of which cost nothing or next to nothing and are guaranteed to build successful in-store promotions. Among them:
Feature some service or product seemingly unrelated to the event (she tells why and how)
Use an unusual venue or create an in-store event around a popular activity – for example, if your state\'s college goes to the Rose Bowl, consider a Rose Bowl watching party at your store
Make your event so much fun or such a good deal that people are compelled to buy now. (An example is a Make It and Take It event.)
Offer a tour of your operations as a community event (Chambers of Commerce can help with this.)
Provide ambiance – include color, scent and sound – the more senses triggered the better
Think pictorially – you can get loads of free publicity if your event gets covered on the local news
Offer door prizes
Promote exclusive or limited merchandise (she tells you how to arrange this.)
Develop a unique invitation to your event (as an example, Howard-Johnson writes of a "Ring in the New Year" event in which the invitation includes one cute earring – and the customer has to come to the event to retrieve the other)
Discount something
Offer favors, free gift wrap, serve food
Serve refreshments that help sell a product – and have the product conveniently available to be purchased – maybe even gift-wrapped!