Broken Petals: An Appalachian-Inspired Short Story Collection
Broken Petals: An Appalachian-Inspired Short Story Collection
Amazon
Barnes & Noble
Kindle
Nook
Author: Anthology: multiple authors including NABBW member Janie Dempsey Watts Reviewed for the NABBW by:  Anne Holmes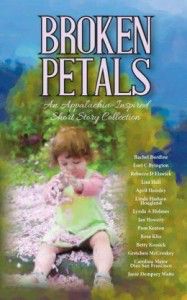 Having read and enjoyed NABBW member Janie Dempsey Watt's novel, "Moon Over Taylor's Ridge," I was anxious to read more of her work. When she told me she'd had short stories published recently in two anthologies, I jumped at the chance to read both collections.
"Broken Petals" is a collection of short stories that demonstrate strength, humor, and tenacity interlaced with influences of traditional Appalachian teachings and intertwined with today\'s lifestyles.
There are 14 stories, all by southern authors, all women whose contributions are influenced by their dedication to their faith, their respect for hard work, and their belief in the values of perseverance, tenacity and Resilience. Some are funny, some are sad. But all will creep into your head and linger on after you read them.
I loved Watts' story, "Aunt Trish's Wedding Gift," which will probably have you laughing as you read it. Sally, the protagonist, tells us about receiving an usual wedding  shower  gift from her aunt: a white porcelain toilet bowl, along with a packet of zucchini seeds and a bag of potting soil.  And instructions to use this as a patio planter – "and see what comes up, if you know what I mean."
Now I'm a Northern girl, but I have driven through the South a time or two, and can report that I have seen toilet bowls on front lawns, etc. So I do believe the story could actually take place. But to learn whether or not Sally does as her aunt suggests – and find out the rest of that story — you'll have to read the book.
Other stories I enjoyed were "Apples to Apples," by Lori C. Byington, "Rachael's Daffy-Dils," by Rose Klix, and "Hallulujah Homecoming," by April Hensley.  Though "The Midwife of Wetzel County," by Carolina Major Diaz San Francisco, which tells how the author became "a daughter of the mountains," will live with you, too.
A slender collection, this book is chock full of real stories, by real women of the mountains. And well worth reading.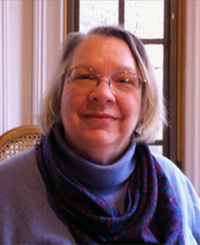 As "Boomer in Chief" of the National Association of Baby Boomer Women, Anne is passionate about educating, empowering and enriching the lives of Baby Boomer Women, as we now begin to age beyond our middle years and enthusiastically launch ourselves into life's next stage – which most people call old age. We Boomers know aging doesn't have to diminish us. We still have a lot to offer the world, and we continue to be ready and willing to enthusiastically participate.

Actively involved with a number of Boomer-focused organizations and committees, Anne keeps a steady finger on the pulse of this still-spirited generation, with the goal of helping us all to enjoy life, stay healthy and continue to live lives that are rich in every sense of the word. Beyond that, Anne is dedicated to helping facilitate the positive interaction between Baby Boomers and the hard-working younger generations who are readying themselves to "take the world's reins" and continue our efforts to move society in a positive direction.