Book Review: "Pap Pap Goes To Paris" is a Fun Picture Book to Gift to That Specially Beloved Child in Your Life
By Janie Dempsey Watts, Illustrated by Lyn Martin
Reviewed for the NABBW by Anne Holmes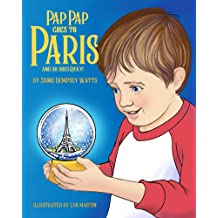 Snow globes and the winter holidays always seem to go together, so this is a wonderful time for me to share author and grandmother Janie Dempsey Watts's delightful picture book about Ricky, his parents and his grandfather, who are lucky enough to live together.
The book, available in both paperback and Kindle, is beautifully illustrated by Lyn Martin, who has previously illustrated more than 35 children's books.
Not quite 30 pages long, the book is a perfect length for bedtime storytelling, especially if you're looking for a book which will stimulate your child's imagination.
As the story begins, readers learn that after showing Ricky a snow globe featuring the Eiffel Tower, his grandfather explains that he and Ricky's Uncle Tony are going on a short trip across the ocean to place called Paris, where the real-life Eiffel Tower can be found.
Ricky, of course is fascinated, and wants to go along.
The rest of the story explains how circumstances change — sadly Uncle Ricky broke his leg in a bicycle accident and can't travel — and lucky Ricky gets to accompany Grandpa in his place.
The book won the Georgia Independent Author award in 2019, and recognition by B.R.A.G. – the Book readers Appreciation Group, and we're sure you and the special children you read it to, will enjoy and appreciate it as well.
Especially because you'll all learn a little bit about some of the many landmarks and the undeniable food and culture of Paris — not to forget the opportunity to learn a few French words in the process. Plus, you'll learn more about the Eiffel Tower, whether Ricky and Pap Pap are able to climb it, and why Ricky nicknames it "asparagus."
Highly Recommended.