Book Review: "I Don't Want to Turn 3" Is A Fun Kid's Picture Book – With a Subtle Lesson
By Gramps Jeffrey
Reviewed for the NABBW by Anne Holmes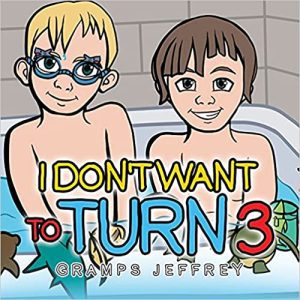 This sweet picture book is author Gramps Jeffrey's first. He wrote it after having the opportunity to spend more time with his grandkids during the past year's pandemic.
Gramps says, "I wrote this book to read to (my) grandkids. Their reaction has been invaluable. As you read aloud and watch them begin to understand Jordan's discovery of right versus wrong, you can see the older kids recognition that they have gone through the same dilemma. While the younger kids don't quite yet understand the concept of sharing. This whole experience, for me, has been priceless."
The book's layout, alternating a full-page graphic similar to the one pictured here with a page of text is perfect, because it allows the reader to point out key elements of the story which are portrayed in the accompanying picture, a tactic which helps turn the storytelling experience into an interactive one.
This is a fun book, which deals with an interesting – and universal – situation: two-year old Jordan doesn't want to age into the role of a three-year old, because he's been enjoying all the things his he's been allowed to get away with as the baby of the family. But of course, we adults know time stops for no one…
This is not author Jeffrey's first foray into authoring, but it is his first children's book, and we hope he chooses to write more. After all, with four kids and six grandchildren, he has plenty of personal experiences which he can mine for topics. He says he's spent time recently observing – as a Baby Boomer –  just how the kids are growing up today and trying to understand just how much the world has evolved since he was 3 years old.