Blind Curves: One Woman's Unusual Journey to Reinvent Herself and Answer: What Now?
Blind Curves
: One Woman's Unusual Journey to Reinvent Herself and Answer: What Now?
Kindle edition
Barnes & Noble Nook edition
Author:

 

Linda Crill
http://lindacrill.com/
Reviewed for NABBW by:

 

Anne Holmes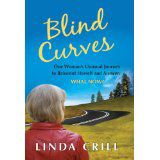 Vroom! Linda Crill is a former Fortune 100 corporate executive, who successfully transitioned into careers as a consultant/trainer and speaker, and eventually started a company with her husband. This book tells the story of how she added biker (yes, as in Harleys) to her resume at age 57 as the result of a moment of rebellion.  
What could cause such a major shift in her life's trajectory? It was a culmination of things: A year after her husband's death she realized that little in her life made sense any more.  Still miserable, she yearned for rediscovery, to find passion again and a new path forward.
Since the traditional mourning techniques – get enough sleep, eat properly, exercise – weren't working, she asked herself the same questions she asked her clients: What can you do now that you couldn't do before? What makes your heart sing? Initially this led her to learn to ballroom dance and downhill ski.
But six months later, after still not finding that elusive passion she so longed for, Crill took on a task she'd never thought possible – to learn to ride a motorcycle.
As you'll read in her story, you'll find that she didn't just waltz into a Harley store and sign up for lessons.  (Though she could have, having already taken those ballroom dance lessons.)
No, Linda's a believer in the concept known as "go big or go home. " So she didn't just take riding lessons: She committed to a 2,500-­‐mile motorcycle road trip through the Pacific Northwest, with only 30 days to learn to ride.  (Thankfully she was accompanied by three friends, all experienced riders.)
Blind Curves is the story of how this decision turned out to be the catalyst Linda needed to move forward — and reclaim her lost zest for life, work and play. By heading into the unknown and the blind curves of the roads less taken, she faced her fears, tested old beliefs, and discovered not only a broader horizon of possibilities to use in building the next phase of her life but also the fuel to make it happen.
Linda says she's shared her story in hopes that it will inspire others to find the necessary Resilience to erase old boundaries and open doors labeled "not me" in the discovery of answers to "What Now?"
As she says at the end of the Epilogue: "I went on a road trip to discover who I should become. Instead, I simply learned, I am." This is a perfect book for anyone looking to reinvent themselves, and anyone asking: What now?
The book is easy to read – and is enhanced with delightful sketches created by her friend, cousin and illustrator, Kevin L. Miller.