Baby Boomer Reflections: Eighteen Special Years Between 1946 and 1964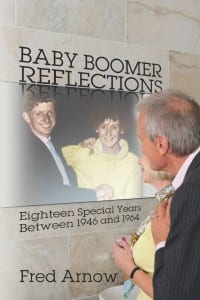 Baby Boomer
Reflections: Eighteen Special Years Between 1946 and 1964
Author: Fred Arnow
Reviewed for the NABBW by Anne Holmes
All Baby Boomers share a cornucopia of iconic memories. Among them: We remember where we were when we heard that President Kennedy had been shot. In fact, many of us recall that our schools called assemblies once the story broke, and we all watched the rest of the news unfold via a black and white TV in the school gym. We were all in disbelief and shock, of course.
Speaking of televisions, if you're a Baby Boomer, you certainly recall watching your family's first television, which held pride of place in the living room. Then later, perhaps on a portable TV, you saw Chubby Checker perform the Twist on American Bandstand (After all, "Bandstand" was required after school fare).
Early on, it's likely most of us remember watching Captain Kangaroo and The Mickey Mouse Club. And after we graduated from the "kiddy shows," we certainly remember watching fantastic cartoons, like The Flintstones and The Jetsons. (And speaking of the Jetsons, remember how our parents and teachers told us that  before we knew it, everyone would have a flying car? OK, so that one is still in the future.)
We also remember watching man first walk on the moon, the day when we (or a close family member) received the dreaded Selective Service "Order to Report for Duty" letter on our near our 18th birthdays. And then there are the very personal memories: your first "boy-girl" party, sock hops, drive-in movies, spin-the-bottle and our first kiss. Maybe you also remember roller skating, hula hoops, and your first three-speed bicycle. Not to mention getting your first driver's license. I know I do.
In this small book of delightful nostalgia, author Fred Arnow takes us through many of these special memories. He's fully capable of doing this, as he's a leading edge Baby Boomer, born in 1946, and graduated from high school in 1964. Those two years, of course, bookend the Baby Boomer generation, (or "cohort," as social scientist call it).
Using chapter titles that are primarily based on hit pop songs of the period – including "My Home Town," by Paul Anka, "America," by Neil Diamond, " "I Get Around" by The Beach Boys, "Rock Around the Clock," by Bill Haley and the Comets,  and "Soldier Boy," by The Shirelles  — plus iconic photos of  the period, and recounting his story using the "voice" of a house on Pine Street, Arnow, a self-confessed "typical Baby Boomer," revisits the eighteen years between 1946 and 1964, bringing memories back to life — and inspiring the reader to remember their own personal reactions to major moments and pivotal events of our youth.
Red this book, and be assured that many personal memories of those early days will flood your memory, too.