A Woman with (No) Strings Attached: A Memoir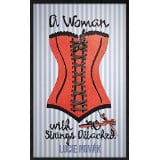 A Woman with (No) Strings Attached: A Memoir
Author: Lucie Novak
Reviewed by: Anne Holmes for the NABBW
Another "slice of life" autobiographical tale, this one is an unusual and explicit memoir of one women's journey to sexual enlightenment. Author Lucie Novak tells readers at the outset that for much of her life, she had found physical activities such as skiing ("… and I am a very good skiier.") far more exciting than sex. In fact, she writes, at age 58, having lived with a lifetime of boring, conventional sex with her husband, she had actually convinced herself that orgasm was an unattainable myth.
In understanding this book, it is important to know that Lucie grew up in communist Czechoslovakia, and that since childhood, she's always enjoyed writing. This becomes apparent as the book plays out, as major parts of it consist of chunks of correspondence between Lucy and her lovers.
She also explains that she learned quite by accident around age 14, that her family was Jewish. Apparently this ed to a bit of an identity crisis, which she still lives with today, 25 years after emigrating to England. As she says, "Am I a Czech Jew? A Jewish Czech? And Anglo-Czech? Anglo-Jewish Czech? What is identity? IS it what YOU think you are? Is it what other people think you are? How do you know? I seem to fit so many boxes, but none of the boxes fits well."

Perhaps it was this unresolved identity crisis that causes Lucie, a family doctor, to leave her unhappy marriage, and join an internet site for adults looking to meet for sex just for sex's sake. (As in, not connected with love, or meant as a gift for the other person.) Actually, the suggestion to join the sex site was the idea of Lucie's new American partner Tom, who lives in New York, occasionally visiting her in London.
Because they live so far apart, Tom encourages Lucie to meet and explore a variety of men, sending him detailed reports on her experiences. (Clearly he has voyeuristic tendencies, because we read that he is excited by her reports, which she sends faithfully, and in great detail.)
Tom and Lucie (disguised as her alter ego, Adrienne), delight in uncovering this daring and unconventional new aspect to her character. For a time, both enjoy the erotic liaisons, and Lucie's reports. But we all know that life is always changing and evolving. It does here, too. You'll want to add this book to the top of your reading list, if you want to know what happens next.
For now, we'll just say that A Woman with (No) Strings is an unusual and explicit memoir of one average woman's journey to not-so-average sexual enlightenment.