The Rich History of the Mesquita of Cordoba
By Teresa Roberts,
NABBW's Associate for Living Abroad
There is something about old buildings that captures my undivided attention. I suspect that I'm not alone. People from all over the world flock to see the great architectures built by civilizations of the past.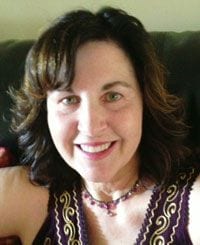 I've seen my share of these manmade wonders, but during my sojourn in Spain this spring, I happily added a new structure to my list of sites that make me marvel. I spent forty-eight hours in Cordoba city center where the grand Mesquita was erected many centuries ago. Needless to say, it still has the power to take your breath away with its majesty and mystery.
Is it a Mosque or a Cathedral?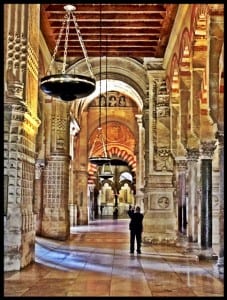 There is no quick answer to this question. It is known far and wide as the Great Mosque of Cordoba, but its ecclesiastical name is the Cathedral of Our Lady of Assumption. It is an amazing example of Moorish architecture, however, even though it was originally a Catholic church.
After Muslims conquered Spain, as far back as 711 AD, Christians and Muslims devised a way to share the building, literally dividing it in half. That arrangement worked for a number of years, until the structure was demolished and a mosque rebuilt on the site. The Spanish eventually reclaimed their lands in the 16th century. At that time, a renaissance cathedral nave was installed within the mosque itself, rendering it once again a Catholic Cathedral.
It looks like a Mosque
Yes, it looks like a mosque. Except for the nave, it is entirely the work of Muslim design and what an impressive design it is. This grand temple is a mixture of practically every style of Moorish influence, most notably the arcaded hall with 856 columns made of jasper, onyx, marble and granite.
Controversy still surrounds the Mosque
Currently, Christians and Muslims still dispute who should be using this holy structure. Muslims have even made a formal request of the Vatican to be able to use part of the complex for prayer. So far, the church authorities have refused the request.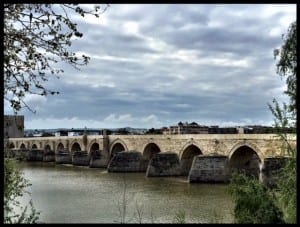 Cordoba is an amazing city. The center of the old historical district where the Mosque stands in all of its glory is very easy to navigate by foot.
We were only there for forty-eight hours, but that gave us plenty of time to poke around and explore the little twisting, winding kissing streets that harken back to days gone by.
Although this part of the city has been taken over by eager tourists from all over the world, the Mosque remains one of Europe's architectural wonders and is worth seeing in person.
Teresa Roberts retired early from a career in education to travel the world as an international house sitter. Along the way, she accidentally became an author/blogger/freelance writer, adding digital nomad to her evolving job description. Although insisting that she is still retired, Teresa writes a weekly blog on her website Creative Paths to Freedom, exploring the topics of creative living, travel adventures and life without debt. Her essay, How to Travel Without Being a Tourist, appears in the book 65 Things to Do When You Retire – Travel.

Teresa's published books include Finding the Gypsy in Me – Tales of an International House Sitter and Creative Paths to Freedom – How to Live Your Dream Life ASAP. She could be the poster girl for finding adventure at any age and on any income. Sharing her story as a guest speaker is also very rewarding. Feel free to contact Teresa at www.findingthegypsyinme.com.

Visit: Creative Paths to Freedom 01-260-918-0458 Skype: terrie06