Stunning Vistas: Your Great Trip to the Swiss & Italian Lakes & Alps
By Carolee Cameron NABBW's Associate for Independent Travel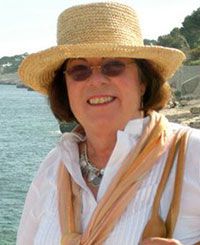 Are you ready for another "Trip of a Lifetime"?
For now, sit back in your favorite chair and imagine yourself on this trip, breathing clean mountain air and taking local ferries back and forth across stunning lakes, with mountains as their backdrop. You will journey southward across the Alps from Switzerland into Italy on the William Tell Express, then northward back across the Alps into Switzerland on the Bernina Express, then westward through the Alps on the Glacier Express. Prepare yourself to gaze upon some of the most stunning vistas in the world. And to dine on "strange fish," walk through an ice cave near the Matterhorn and watch a "goat parade."
"What?" you ask. "I was following you just fine until the 'strange fish' part. And, for that matter, what is there to see inside an 'ice cave' and what on earth is a 'goat parade'?"
I know. We were startled too the first time we saw "strange fish" on a menu in Geneva. " What exactly is strange about these fish?" we wondered. And did we want to order "strange fish" for lunch? The waiter responded to our questions by pointing to a nearby table where two diners were feasting on platefuls of tender small fish, lightly cooked in lemon butter. These fish were called "strange" because they were not LOCAL fish from Lake Geneva, but had come from another lake farther away. A brief glance at these delicacies convinced us that the answer was a resounding "YES!" We did want "strange fish" for lunch.
The ice cave and the goat parade were two other unanticipated delights, this time in Zermatt. The inside of the ice cave was filled with ethereal and beautifully-lit ice sculptures. And the goats did parade quite proudly through the heart of Zermatt, making quite a commotion as they came home from the hillsides where they had grazed that day, their bells clanging merrily.
But I have jumped ahead of the story of your imaginary great trip– a trip that hopefully will become real someday soon.
Fly to Zurich, then Travel to Lucerne by Train

After flying into Zurich Switzerland, you will board an immaculate Swiss train headed for a 3-night stay in lovely Lucerne, built along the edge of a lake. You will stay in a room-with-a-view along the lakeside, and dine at a balcony restaurant overlooking the 14th century pedestrian bridge that crosses the lake.
Quickly you will learn your way around your part of town, locating the shops and pubs, and the many charming squares and fountains, where locals gathered in times gone by to fetch their water and visit with their neighbors.
Much of your time will be focused around the lake and old town. But you also will visit the two Picasso Museums, one housing the remarkable Rosengart collection of his paintings, and the other displaying the 200+ photographs taken by David Duncan, showing Picasso's life in all its intensities, from the moments of high spirits, romping with his children, to the less rambunctious times like when his wife was fussing at him to clean up his studio.
On a visit to see the giant dying lion, carved out of a wall of sandstone rock above a pond at the east end of the medieval town, you will learn the story of the Swiss mercenary soldiers it commemorates. While serving the French king Louis XVI during the French Revolution, the Swiss mercenary troops tried to defend the royal family and help them escape when the revolutionary masses attacked the royal Tuileries castle in Paris on August 10, 1792. Most of these soldiers were killed– 750 dead, only 350 survivors. The Latin inscription above the lion reads HELVETIORUM FIDEI AC VIRTUTI– "To the loyalty and bravery of the Swiss."
Lucerne to Lake Como, by Steamer & the Scenic William Tell Express

From Lucerne you will travel by steamer and scenic train, crossing the Alps into Italy. This 5-hour trip will begin with a spectacular 2 ½-hour cruise across Lake Lucerne by steamer. The views will be stunning as you sit on deck, then dine at a window table.
When the boat drops you off in tiny Flûelen, you will walk the short distance from the pier to the train station, then find your seat next to a panoramic window aboard the scenic William Tell Express. Soon you will be winding your way through the impressive Reuss Valley, then climbing up and through the St. Gotthard range, and passing through the Gotthard railway tunnel — a civil engineering marvel.
After the tunnel, you will arrive in Ticino, then journey through charming, quaint villages on the way to Bellinzona, where you will change trains and speed down into Italy, heading for the incomparably picturesque Lake Como. Here you will spend four nights in the colorful and flower-bedecked town of Varenna, enjoying its charms, and traveling the lake by ferry back and forth to nearby Bellagio and Menaggio, and beyond. You will visit stunning lakefront mansions and gardens, and dine superbly b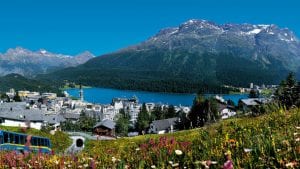 eside the lake, with views of the Alps as a backdrop at the far end.
Back Across the Alps to St. Moritz on the Bernina Express
After a 1 ½-hour train ride from Varenna to Tirano, you will board the Bernina Express to cross back over the Alps from Italy into Switzerland. This is one of the few journeys in the world where 2 ½ hours will take you through landscapes that range from palm trees to ice-age glaciers. As you glide through the countryside, you will enjoy sweeping vistas of Alpine crossings and dramatic gorges, passing over 196 timeless bridges and through 55 winding tunnels — all viewed through spectacular panoramic windows.
Your scenic train ride will deposit you in glorious St. Moritz, another lovely town on a lake, with the Alps looming as a backdrop.
During your stay in St. Moritz, you will ride the funicular up a mountain, then dine comfortably outside, with magnificent views back down to the town. You will wander interesting shops, and visit a small but fascinating Museum that displays the family collection of Alpine art created by physician and painter Peter Robert Berry. Berry captured the natural beauty and ruggedness of the surrounding mountains, and documented the difficulty of traversing them in earlier times.
Cross Through More Alps on the Glacier Express from St. Moritz to Zermatt
The Glacier Express is the ultimate way to travel between the Eastern and the Western Swiss Alps by train. Your 7½ hour journey will begin in St. Moritz and take you to Zermatt, venturing across steep mountain passes and impressive viaducts, passing through 91 tunnels and crossing 291 bridges while you experience the alpine wonders of Switzerland. This scenic train ride is famous for its panoramic views of snow-capped mountains, breathtaking rivers, peaceful alpine pastures, magical castles, and charming villages. It is also famous for its unrivaled pampering of travelers throughout the train journey.
Arriving for your 3-night stay in Zermatt, the storybook car-free town at the foot of the Matterhorn, you will be captivated instantly. This likely will become one of your most treasured memories from your trip.
Here you will take an amazing gondola ride up, up, and up to the highest mountain station in the Alps, again crossing into Italy by the time you reach the summit. Perched at 12,500 feet at the "top of the world," warming yourself beside a large panoramic window in a restaurant with stunning views in all directions, you will dine heartily, Italian style. Plan to share… One meal feeds three.
After lunch, you will walk inside a glacier to the fairytale Ice Palace, glittering with ice crystals and scattered with shimmering translucent ice sculptures. Later you may opt to try some snow-tubing or to purchase a Matterhorn patch to mark your journey to the top—albeit to a different summit, and using a much safer means of climbing. Then you will catch the gondola back down the mountain, stopping off, if you like, at the Schwarzsee lift station, for outlooks of the lake and the Hörnligrat ridge, the most popular route for climbing the Matterhorn on the Swiss side. Another optional stop off will be at Trockener Steg station, where you can sit on the large sun terrace, with the mighty Matterhorn so close you can watch for climbers scaling the Hörnligrat ridge.
You will visit one of the most interesting museums you've ever experienced, and learn the harrowing tales of those who attempted to climb the fierce Matterhorn, including the first expedition of 7 climbers to reach the top in 1865, only 3 of whom survived. These 7 fearless adventurers are featured in the book "The Day the Rope Broke." A piece of the actual rope that broke is on display, as well as various personal objects recovered after the accident. After visiting the museum, you will visit the graveyard where unsuccessful climbers have been buried, and take some time to read the inscriptions. Then it will be time to find a seat along the main street to watch the goat parade.
To Geneva by Train
Back aboard a train once again, you will complete the final leg of your journey through the Alps, switching trains and tracks in Visp, from the narrow gauge system required to descend the challenging mountain terrain from Zermatt, to the regular gauge used for cross-country rail travel. Your next and final destination will be Geneva, where you will stay for four days, with time enough to explore and experience this varied and beautiful city, again built around a lake, but this time a very large one—Lake Geneva.
During your stay in Geneva, you will travel from shore to shore across the end of the Lake, taking the little yellow water taxis past the prominent water jet, shooting a 460-foot stream of water high into the air. You will hop a tram down to the Italianate neighborhood of Carouge, once an Italian royal city, with its fountains and flowers, and many neo-classical homes with inner courtyard gardens. Here you will wander the streets and squares, admiring the once-glorious mansions that have now been converted into restaurants, Fashion boutiques, artist workshops, studios and antique stores. Later you will dine at a lovely outdoor table, overlooking the square, feasting on "strange fish."
In Geneva's Old Town, you will walk the narrow streets and pause for coffee under the shade of an ancient tree, then visit Tavel House, with displays of the artifacts of daily life in Geneva from the Middle Ages through the late 1800s. When you walk up to the attic, you will discover a massive, intricate scale model of pre-1850's Geneva, when walls still surrounded the city.
Possibly you will attend a concert in one of the old churches. Certainly you will take the time to visit the Reformation Wall, with its towering 15-foot statues of the four main Genevan proponents of Calvinism (Beza, Calvin, Farel and Knox), then pause to play a game of pavement chess just inside the gates of the lovely park you walked through to reach the wall.
You will see watches everywhere, beginning with the remarkable collections in the "Temple to Watchmaking"–the fascinating Patek Philippe Museum. More and more watches will glisten from jewelry store windows — elegantly displayed and sporting outrageous price tags. Pause to select two or three of these showpieces for yourself as part of an expedition of "pretend shopping." Then total up what you would have spent on all these watches you will NOT be purchasing, divide by 500 (or so) and treat yourself to a delectable dinner in celebration of all the money you just saved.
This concludes your "Great Trip" as you fly home, taking with you the images and memories, treasures and stories you have gathered along the way. But wait. Here you are still at home, traveling in your imagination from your armchair and not wanting this trip to end. So the good news is that your trip is not really ending yet, because it hasn't actually begun. So now you can promise yourself that one day you will actually plan and take this great trip. For a full guide with all that you will need to make this imaginary trip real, watch for the book "Your Great Trip to the Swiss & Italian Lakes & Alps," coming in 2015 (New Cabady Press).
Dr. Carolee Cameron Duckworth is co-author (with Dr. Marie Langworthy) of the book: "Shifting Gears to Your Life & Work After Retirement," published in 2013 by New Cabady Press. Her upcoming travel book series, co-authored with Brian Lane, includes: "Your Great Trip to France," "Your Great Trip to Italy," "Your Great Trip to the Pacific Coast," "Your Great Trip to the Swiss & Italian Lakes & Alps," and "Your Great Trip to Provence & the Cote d'Azure."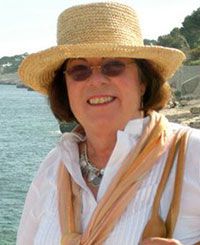 Carolee Duckworth is an avid traveler, an experienced trip designer, and co-author (with Brian Lane) of the books Your Great Trip to France, Your Great 5-Day Trip to Paris, and Your Great 5-Day Trip to the Loire Chateaux, available on amazon.com. Your Great Trip to Italy is coming soon. Ignite your passion for travel, while preserving your independence, with a Great Trip Guide by your side. Visit
YourGreatTrip.com
for a free copy of our definitive guide to packing: "How to Pack Like a Pro," and to receive periodic emails with new trip itineraries and travel tips.