An American Snowbird in Southern Spain
By Teresa Roberts NABBW's Associate for Living Abroad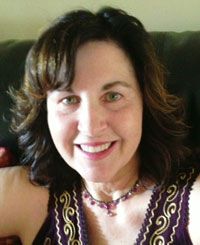 I'm in southern Spain —again. This time, I am here for two months, living in my own apartment.
Last year, I came to Spain to find an apartment on the coast of Andalucía. My ultimate goal was to locate a place that could become my home-away-from-home for a number of years to come. Snowbirds in the U.S. tend to go to Florida, but this snowbird goes to southern Spain.
I retired earlier than my husband and although he quit his job for two years and traveled the world with me on my pension, whenever we returned stateside for any length of time, he had to go back to work. His Retirement is less than a year away now. Soon, he will be "snow-birding" full time with me. Our apartment in Spain will be just the place for us to hang our hats for at least three months a year.
We are living in Torre Del Mar, a coastal town of about 20,000 people. During the winter months, it is very quiet here.
Except for the jubilados (retirees) from northern Europe, there isn't a lot of boisterous tourism. I happen to like it that way.
During the summer months, it's a different story altogether. Spaniards tend to come here for the beach. It really gets lively.
Because it's winter in Spain, off-season rates are common. We have a two-bedroom apartment, fully equipped kitchen, Wi-Fi, English television stations and washer and dryer for 450 euros a month. That's about $20 a night.
We're on the sixth floor with a partial view of the Mediterranean in a front-line building right across the street from the ocean. There is a beautiful promenade that follows the sea from Torre Del Mar to the next town of Caleta De Velez. We can take in the sea air and our daily exercise whenever we please. I am sleeping splendidly at night. I suspect it is because I'm walking a lot.
In the winter, Torre Del Mar is a magical combination of snowcapped mountains, blue seas, palm trees and green parrots. Although there are days of rain, generally the sun warms things up nicely by mid-morning. Jackets are often required, but since I'm a walker, I actually find this appealing.
I'm an advocate for retiring and living abroad for at least part of each year, especially if you have always longed to travel. Local life abroad is extremely fulfilling. There is so much to learn about life elsewhere that one's mind is constantly being challenged, which I believe is good for our little grey cells.
I've been coming to Spain for ten years, so now I have friends here and am never lonely. When people ask me what I do in Spain for two and three months at a time, my answer may be disappointing. I do not consider myself to be a tourist. I live here, so my life is pretty much the same as it is when I am in my home in the United States. I walk, read, write, cook, eat and visit with dear friends. It's a lifestyle.
If you've always dreamed of living abroad, please know that it is very doable. Lots of people are living part-time or even full-time outside the borders of their own countries.
Whether it's France, Italy, Portugal or the south of Spain like me that you've yearned to see, consider making your long-time dream a reality. I've never regretted it. The experiences, the people that I've met, the sheer joy of seeing the world differently are priceless.
Teresa Roberts retired early from a career in education to travel the world as an international house sitter. Along the way, she accidentally became an author/blogger/freelance writer, adding digital nomad to her evolving job description. Although insisting that she is still retired, Teresa writes a weekly blog on her website Creative Paths to Freedom, exploring the topics of creative living, travel adventures and life without debt. Her essay, How to Travel Without Being a Tourist, appears in the book 65 Things to Do When You Retire – Travel.

Teresa's published books include Finding the Gypsy in Me – Tales of an International House Sitter and Creative Paths to Freedom – How to Live Your Dream Life ASAP. She could be the poster girl for finding adventure at any age and on any income. Sharing her story as a guest speaker is also very rewarding. Feel free to contact Teresa at www.findingthegypsyinme.com.

Visit: Creative Paths to Freedom 01-260-918-0458 Skype: terrie06