Last Chance for Romance in the West
Last Chance for Romance in the West
By Linda Ballou
NABBW's Adventure Travel Expert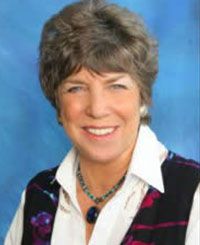 Aspen leaves spinning in a stout wind rattled like castanets. I found shelter beneath the spreading arms of an ancient spruce from the intense sun on a ledge overlooking the Platte River Valley. The ceaseless chatter of the river on its merry way to Denver kept me company.
Below, nestled in the cleft of the blue mountains sheathed in Ponderosa pine, North Fork Ranch rests hidden from the modern world. People come here from around the globe to breathe the crystalline air, fish in the clear waters, and let a good horse take them back to the days when the West was young.
A ride in the National forest that surrounds the 500+ acre ranch garnered expansive vistas and meadows carpeted with billowing grasses spiked with orange paint brush and bright yellow daisy.
The ranch is at a very tolerable 8,100 feet; however, peaks in the distance framing the valley rise to 14,000 feet. Migrating herds of elk come down from higher elevations in the winter to graze. A female left behind darted across our path.
Downed logs ripped to shreds were evidence that bears are alive and well in this neighborhood. Horsetail ferns and delicate mosses laced shady dells where indigo columbine lifted pretty faces to the sun. We arrived at a sunny basin, turned out our horses to graze, and pulled up a rock for our picnic lunch.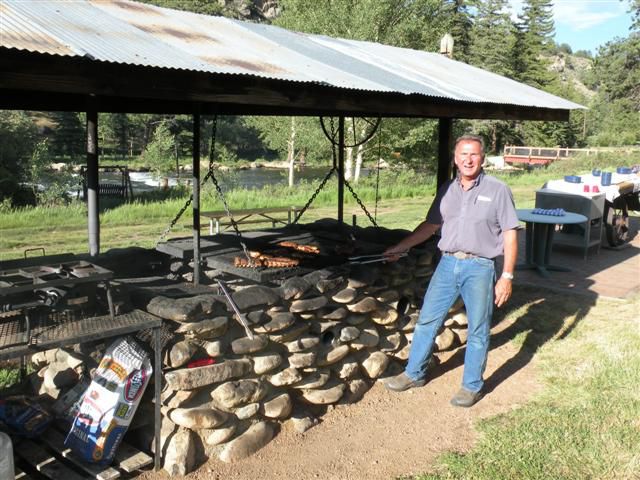 Meanwhile, back at the ranch, Dean, master of his fifteen-foot grill, was busy slow roasting racks of ribs for forty. NFR is the love child of Dean and Karen May who purchased it in 1984 and have been upgrading it ever since. They added the Wild Horse Lodge, the main hall where guests congregate for meals; renovated rooms for singles and couples that are a part of the lodge; and built cabins that accommodate extended families. The grounds of the ranch include a pool, spa, and stables and pastures-all meticulously maintained by an attentive staff.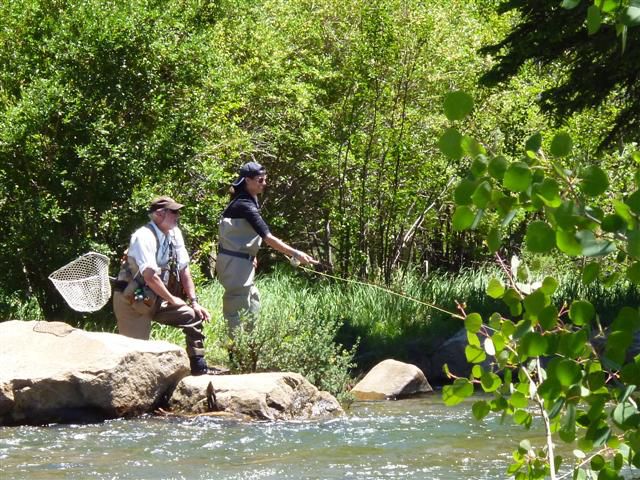 Where the BBQ stands today, a narrow gauge train rumbled to Denver for sixty years. Gold and silver mining brought a network of small railroads to the majestic, yet un-hospitable Colorado Rockies in the late 1800s. Tourists from Denver flocked to the region on what became "The Fish Train" to cast a line in the trout-rich waters of the Platte River. NFR is an Orvis endorsed fly-fishing lodge with 2.5 miles of river teeming with rainbow, brown, steelhead, and brook trout just off the back porch.
On the drive to a day of white water rafting on the Arkansas River, included in a week stay at NFR, Dean shares his deep knowledge of the region. We stopped to overlook South Park, which millions of years ago was an enormous inland lake where dinosaurs came to take a dip. It dried to a vast meadow where the last of the buffalo in Colorado roamed making it the summer hunting grounds of the Ute Indians.
The river was tame with lazy water riffles and small wave trains the June day we put in, but it can be a raging inferno in springtime in wet years. The sun was high overhead, but a cooling wind at our back made the going easy. It is a 13-mile day trip into Brown\'s Canyon framed by volcanic rock chiseled by water into twisted formations. On the upper canyon, summer homes peer down from the bluffs. As you glide deeper into the canyon, soaring rock walls frame the river lined with willows. You can let your imagination wander as you drift along listening to the lilt of the wrens and yellow warblers.
On the way home, Dean pointed to a peak named after Albert Bierstadt, the landscape artist most famous for his rendering of "A Storm in the Rockies." A hike up nearby Square Top Mountain is also available for those who yearn for the Colorado alpine experience. I ventured to the first glacier cirque on this trek where I found a delightful rill nurturing Fairy Primrose, Sandy Winks, and Alpine Forget Me Not.
On my perch beside the cheery cascade beneath a blue bowl, I gave thanks to Dean and Karen May for bringing me to this beautiful day. If not for ranchers like them who open their doors to guests and work to persevere what is fast being lost to developers and extractive industry, the unspoiled West would be all but forgotten.
Scheduled activities for kids of all ages, riders and non-riders, make a stay at the ranch the perfect family holiday. A singing cowboy and the appearance of Mountain Man, who arrives wearing buffalo chaps and a coyote pelt for a hat provide evening entertainment around the campfire. A trip to trendy Breckenridge for a day of shopping, or a test run on the new zip-line in Conifer is also in the offing. NFR is not just for dudes, it is a multi-sport adventure with something for everybody.
For more about the ranch read my Interview with Karen May in my June article at www.NABBW.com.
For rates and reservations, visit http://www.northforkranch.com/
Colorado Wildfires
Colorado is home to 23 million acres of public lands, including 10 national parks and monuments, 41 state parks, and 334 state wildlife areas. The active fires represent less than one percent of the state\'s public lands and most of the state\'s destinations and attractions are open for business. The Colorado Tourism Office has announced an online travel resource for tourism-related fire updates at http://www.colorado.com/colorado-wildfire-updates-for-travelers.
Linda Ballou says her mission is to experience as many beautiful places on our planet as she can, before they are no more. "Travel tales relating my experiences while kayaking, horseback riding, sailing, birding and hiking about the globe have appeared in numerous national magazines. I had a great deal of fun collecting travel stories, and profiles of people I have met in "naturally high places" for my newest book, Lost Angel Walkabout-One Traveler's Tales. For a complete bio as well as published on-line clips with photos go to my website www.LindaBallouAuthor.com. Your reward, aside from learning about me and my work, will be to discover the secret to youth! Follow my blog to keep up with my latest adventures."