Christmas Decorating with the Thrift Talk Diva
Christmas Decorating with the Thrift Talk Diva
By Barb Tobias, NABBW's Thrifting Expert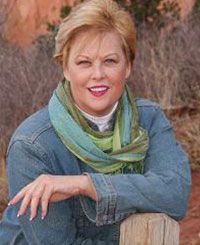 I know, I know. It\'s just November…I mean the Thanksgiving stuff isn\'t out and my holiday meal isn\'t even organized. Yet, here I am planning my Christmas decorations.
My rationalization is this … it takes me a month or two to orchestrate the festive bedecking of my home in the spirit of frugal yet chic décor.
I enjoy this creative holiday endeavor, and dive into producing grand arrangements with gusto. After all, I am a collector of orphans … the savior of parts … creatively piecing together all the unloved odds and ends that others unconsciously toss away.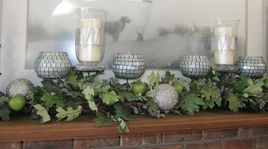 And how I hem and haw over each selection, lovingly turning them into cheerful masterpieces … for little to no money.
I begin by sorting through all the holiday finds I\'ve collected from garage sales, flea markets, consignment shops and thrift stores.
The sorting and grouping of each "orphaned" item eats up quite a bit of time as I contemplate the potential of each piece, figuring out how it might be used to Fashion a stunning display.

This year I pieced together a lovely holiday centerpiece crafted out of four random castoffs. Wonderful chrome stand that once held a globe … I presumed. Not sure what I would do with the piece, I snatched it up for a mere $2.00 after being drawn to its height and heft.
After the purchase I was concerned that I might not find a lantern that would fit effectively within the ridged top. Hey, it was worth a try, and for two bucks … come on!
I\'ve learned, from my years as a hopeless thrift-a-holic, that patience eventually pays off. And, sure enough … a couple of months later, I was delighted to find a cracked-glass hurricane. I placed my new acquisition on my holding shelf where it sat until this holiday season.
Once I started my holiday decorating I was most anxious to see if the globe would fit into my tall, stately stand. As I slid the lantern into place I was delighted to find that it fit perfectly!
I finished up creating my Christmas centerpiece by twisting two random greenery vines, twisted them about the base and placed a fresh pine-scented candle (another garage sale find) within the globe. Now I had a centerpiece worthy for the most festive table … for under $10.00!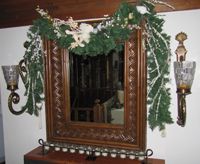 Greenery and garlands, collected throughout the garage sale season, are lavishly draped over mirrors, mantels and bowls. These festive ropes are regularly decorated with odd flowers, berries, balls and candles.
When the spirit moves me I add a bit of holiday humor, frivolity and personality to each room. Notice the elf hitching a ride on a San Francisco motor bus! In an adjoining guest room, a precious doll holds a bouquet of holiday splendor.
Creative buying throughout the year, when holiday items sell for pennies on a dollar, can make lovely additions to a home during the holidays…cheap yet chic decorations that defy the sharp eye of the most discerning guest.
Barb Tobias, author, speaker, thrift specialist, and frugal decorating consultant is a hopeless Thrift-a-holic.

Lauded as the frugally chic purveyor of an environmentally conscious nation, Barb\' s release, Tossed & Found, gives the reader a birds-eye-view of the riches stashed within the dimly lit coffers of the thrift world.

Barb Tobias is available for speaking engagements, workshops, guest appearances and media events. 1-877-711-DIVA (3482). Learn more about Barb on her website, Thrift Talk Diva.