Mid-Summer is Time to Enjoy More Awesome Heart Healthy Allium Veggies!
By Dr. Janet Brill, Ph.D., RDN, FAND, LDN

NABBW's Associate for Healthy Heart Lifestyle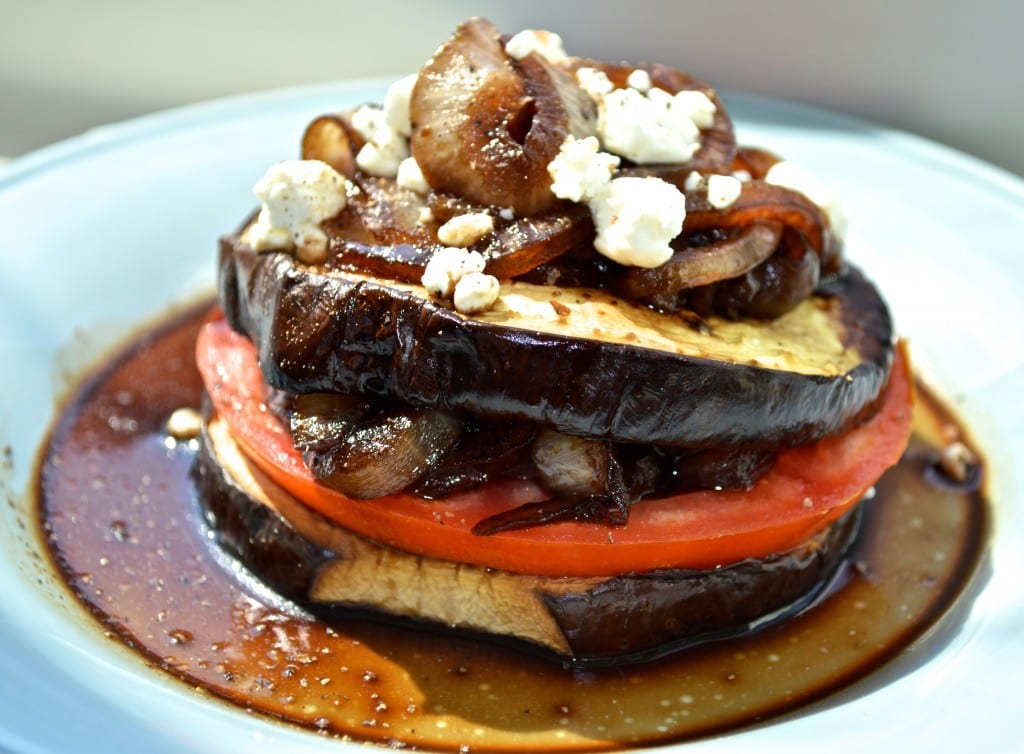 You know that you should be eating vegetables every day, but did you know that you should try and get in allium vegetables on a regular basis? The allium family of veggies include onions, leeks, chives and garlic.
What's so awesome about allium veggies? Allium vegetables house a unique combination of polyphenols and sulfur-containing nutrients that have been shown to decrease the risk of developing cardiovascular disease and certain cancers. They also reduce inflammation and prevent loss of bone and connective tissue. Consume onions, garlic daily as they help prevent heart disease.
Perhaps you don't like raw or cooked onions, but have you tried super delish candy-like caramelized onions? Caramelized onions are easy to make and can be a delicious topping to your pizza, grilled chicken, or salad, as seen in this week's, Roasted Eggplant and Tomato Stack with balsamic caramelized onions and goat cheese.
Check out this low cholesterol recipe of roasted eggplant and tomato stack with balsamic caramelized onions:
Roasted Eggplant, Steak Tomatoes, and Balsamic Caramelized Onion Stacks
Not sure what to do with an eggplant? Just slice it and roast it in the oven with olive oil and create a veggie stack, baked eggplant parmesan, or eggplant burger!
Yield: 6 Servings:
(1 serving =2 slices of eggplant, 1 slice of tomato, ½ cup of caramelized onions, and ½ oz goat cheese)
Ingredients:
1 medium sized eggplant, sliced
1 large steak tomato, sliced
1 cup of goat cheese, crumbled
 Balsamic Caramelized Onions:
2 onions, thinly sliced
1/4 cup extra virgin olive oil (EVOO)
1/4 cup brown sugar
2/3 cup balsamic vinegar
Directions:
Pre-heat oven to 350 º F. On a baking sheet, place the sliced eggplant. Pour 1/8 cup of EVOO in a small bowl and brush both sides of the eggplant slices with EVOO. Roast the eggplant slices for 45 minutes (flip slices over every 15 minutes). In frying pan, fry the onions in EVOO for a bout 5 minutes. Then add brown sugar and balsamic vinegar to the frying pan and cook on low heat for about 45 minutes until the onions are super sweet and yummy. Save the leftover balsamic vinegar to pour over your veggie stacks.
Veggies stacks: 1 eggplant slice, 1 tomato slice, 1/8 cup of onions, 1 slice of eggplant, 1/8 cup of onions, a sprinkle of goat cheese, 2 tablespoons of leftover warm balsamic vinegar (bottom to top).
Nutrition Information Per Serving: Calories: 237 kcal, Fat: 12 g, Cholesterol: 7 mg, Carbohydrate 28 g, Dietary Fiber: 6 g, Protein: 5 g, Sodium: 66 mg
Dr. Janet Brill, Ph.D., RDN, FAND, LDN, is a nationally recognized expert in the field of health, wellness and cardiovascular disease prevention and is frequently sought after by the media as a trusted source of nutrition and fitness information.

Janet holds master's degrees in both nutrition and exercise physiology and a doctorate in exercise physiology.

She is a registered dietitian and certified by:

 American College of Sports Medicine
National Strength and Conditioning Association
Wellcoaches, Inc.
Academy of Nutrition and Dietetics, Certified Specialist in Sports Dietetics

Janet Bond Brill is also the author of three books:

"Prevent a Second Heart Attack, 8 Foods, 8 Weeks to Reverse Heart Disease"


Dr. Brill is a leading diet and nutrition author, educator and practitioner. She consults for the health and fitness industry specializing in cardiovascular disease prevention. She is the nutrition expert for the national television show, The Balancing Act. For more info on her books, please visit: www.DrJanet.com.
NOTE: This article was originally published on Dr. Janet's blog, at http://www.drjanet.com/blog/2013/08/26/awesome-heart-healthy-allium-veggies/