Waiting for Blooms
Waiting for Blooms
By Deborah Clark
NABBW's Gardening Expert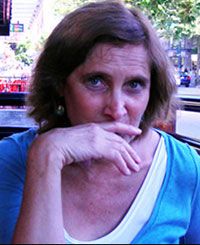 When you\'re 5 years old, one year is a fifth of your life – a full 20 percent. But when you\'re 50, it\'s only one-fiftieth of your life. Just the blink of an eye. This is why gardening gets easier as you get older. So much of gardening involves waiting and watching. When you\'re older, your sense of time expands, and waiting becomes easier.
I remember planting flower seeds when I was 8 years old. I bought them myself at a corner dime store. The seed package showed the most beautiful blue morning glories growing on a vine and covering a trellis, creating a tunnel the color of the sky. I was taken with the idea of a trellis as we had just moved to a new house with a white wooden trellis over the sidewalk in the back yard.
Mom wasn\'t a gardener and could offer no information, so I read the instructions on the seed packet. I probably over-estimated the depth and buried the seeds in their graves rather than planting them close enough to the surface. When they didn\'t come up, I dug around in the soil to see if I could find them again, but they were gone. And they never sprouted.
By my early twenties I again tried my hand at planting, and this time had success. But back then, one year was about one-twentieth of my life, so I hovered over seeds like a nervous hen, anxiously waiting for them to grow.
Thank goodness for my present sense of rhythm, which in the autumn lets me exult over the work and planning of earlier in the year. I\'m happy now to have chosen the oakleaf hydrangea and the sourwood tree with their brilliant red leaves on, and hosta blue angel as well as on the yellowwood tree whose leaves are now a rich yellow.
But now it\'s also time to think about spring bulbs. I have my favorites now, and am not as prone to being enchanted by pictures in the catalogues. Certain bulbs work well for me, and for different reasons, so I look for variations of those. Let me tell you now about some of my favorite little bulbs.
The earliest ones to bloom are the galanthus, commonly called snowdrops. I like to buy a few each year to add to the little slope where they grow next to the stairs from the driveway to the front door. It\'s a sunny spot, so they\'re usually the earliest flowers I see. And I have seen them blooming even when snow\'s on the ground.
Although I\'d love to see a blanket of crocuses out the back window, the squirrels like to dig up and eat them around here, so I confine them to a spot outside the back door. In early spring, I\'ll park in the driveway and enter the house through the back door, just to see the crocuses for the few weeks they\'re in bloom.
The cobalt blue Siberian squill (scilla siberica) are great for naturalizing, and they remind me of my childhood in Illinois – back in the days when people didn\'t fanatically poison everything on their lawns except for grass, but allowed the squill to spread their blue carpets across front lawns everywhere. What a beautiful sight, and one that\'s unknown to present generations who don\'t realize how their grass fetish makes their lives smaller.
Also blue but slightly less intense are the glory-of-the-snow (chionodoxa luciliae) which I interplant with barrenwort (epimedium rubrum), a ground cover whose pink flowers emerge before its leaves. The pink barrenwort with the blue glory-of-the-snow is breathtaking. Another bulb that\'s great for interplanting is the wood hyacinth (hyacinthoides), whose Latin name has changed about 5 times in the past 20 years. I like to plant it among the lilyturf (liriope muscari) because their leaves are so similar, so the lilyturf leaves emerge as the hyacinth leaves are dying.
I see them all in my mind\'s eye, the delicate and small pinks, blues and purples of spring such a world away from the reds and yellows outside my window right now. And maybe that\'s one of the reasons it\'s not so hard to wait – because of the beauty that\'s before me right now.
Deborah Clark says she might never have taken up gardening if she hadn't had neighbors who shared their love of gardening with her – but moved away. It all started in 1973, she says, when a departing neighbor invited her to take care of an already-planted community vegetable garden plot: all she had to do was weed and harvest. She was hooked.