Savor the Flavors of Spring: Ham and Asparagus Linguini
Savor the Flavors of Spring: Ham and Asparagus Linguini
By Pat Sinclair
NABBW's Cooking for Two Expert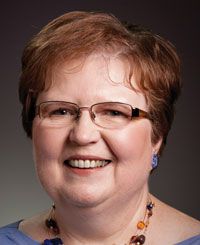 The fresh bright flavors of spring pop from this quick and easy entrée.
Crisp pale green stalks of asparagus are appearing in the supermarket, a sure sign of spring. For this dish, I select thinner stalks because I find it easier to cook them quickly. Use ham leftover from an Easter celebration or omit it and try cooked shrimp or chicken instead. Goat cheese forms the basis for the sauce but doesn't use a whole package. Crumble any remaining cheese over salads.
Makes 2 servings
4 ounces linguini
1 tablespoon olive oil
2 tablespoons chopped shallot (1 medium)
1/2 pound asparagus, cut into 2 inch pieces
4 ounces cubed ham (about 1 cup)
3 ounces goat cheese
1 teaspoon grated lemon rind
2 tablespoon grated Parmesan cheese
Cook the linguini is salted boiling water as directed on the package. Before draining, reserve 1/2 cup of the cooking water.
Heat the olive oil in a 9-inch nonstick skillet over medium high heat and add the asparagus and shallot.  Cook, stirring often, until the asparagus is tender but still crisp, about 4 to 6 minutes. Add the ham and cook about 1 minute or until heated through.
Stir in 1/4 cup pasta water and the goat cheese and continue stirring until the cheese melts.  Add the cooked linguini and lemon rind. Taste and add salt if needed. If the sauce is too thick, stir in the remaining pasta water.
Divide the pasta into two servings and sprinkle with the Parmesan cheese and fresh cracked pepper.
SIDEBAR: Select crisp pale green asparagus with tight firm buds. When the buds are dry or discolored the asparagus isn't as fresh. Asparagus stored with the bottom of the stalks in ice will be higher quality. Look for thin stalks that are uniformly thick. To prepare–just snap off the bottoms of the stalks and rinse well to remove any grit. Cut the spears into 2-inch pieces.
Pat Sinclair is a food consultant and a recipe developer with over 25 years experience.  She develops recipes that are easy, fast and practical for the home cook, keeping consumer's busy lifestyles in mind.

Her newest cookbook, Scandinavian Classic Baking, from Pelican Publishing has just been released. Her first cookbook, Baking Basics and Beyond: Learn These Simple Techniques and Bake Like a Pro, received the Cordon d'Or- Gold Ribbon Award from the Culinary Arts Academy in 2007. She is currently working on Dinner for Two-Easy Healthy Recipes to Fit Your Lifestyle.

Pat has a degree in Food Research from Purdue University and a master's degree in Foods from the University of Maryland. She is a member of Les Dames d'Escoffier, International Association of Culinary Professionals, and the Twin Cities HEIB (Home Economists in Business).

She invites you to contact her at www.PatCooksandBakes.com. Or via her blog. Copyright 2011 By Pat Sinclair