Enjoy a Valentine's Dinner for Two
Enjoy a Valentine's Dinner for Two
By Pat Sinclair
NABBW's Cooking for Two Expert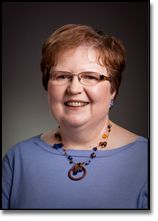 With the economy recovering so slowly, this might be the year to celebrate Valentine's Day at home.
Take time for a quiet meal for two and spend an evening enjoying a special dinner and a bottle of wine. Set the scene, maybe in front of a blazing fire, and use your best china and crystal.
Easily prepared ahead, shrimp scampi is perfect for a meal for two.
Watch for specials on shrimp, especially on wild American shrimp. They are safe to eat and you'll be helping the Gulf region recover. You'll only need about 1/2 pound.
For this classic Italian dish, I've used a shallot but for a garlicky kick, add one or two minced garlic cloves. Panko are dried Japanese breadcrumbs that are light and delicate and make a tasty topping but you can omit them and have a buttery sauce instead.
To complete this elegant meal, I prepare rice that can soak up the sauce. Quick and easy, boil-in-the-bag rice makes two generous servings and now is also available with brown rice. Add a green salad lightly tossed with lemon vinaigrette or a green vegetable and light the candles.
Put the bread pudding in the oven when you sit down for dinner and it will be ready in time for dessert.
Baked Shrimp Scampi
To butterfly shrimp, cut down the center where the vein has been removed lengthwise without cutting through. This will enable the shrimp to stand in the dish and cook through better. Look for the number of shrimp per pound as an indication of size. Extra large shrimp (16-20 per pound) may be a more economical choice and will probably cook a little faster.
Makes 2 servings
6-8 jumbo shrimp (12-15 per pound), peeled, deveined and butterflied 2 tablespoons white wine 1 tablespoon olive oil 1/8 teaspoon coarse salt 2 tablespoons butter, softened 1 shallot, minced 1 tablespoon chopped fresh parsley 1 teaspoon chopped fresh rosemary 1 tablespoon lemon juice 1/4 cup panko breadcrumbs Lemon wedges
Combine the shrimp, wine, olive oil and salt in a food storage bag.  Massage the shrimp to distribute the marinade. Chill until needed.
Mix the butter, shallot, parsley, rosemary and lemon juice until blended. Stir in the panko crumbs.
Heat the oven to 425 degrees F. Arrange the shrimp cut side down with tails standing up in a 1-quart baking dish. Pour the marinade over the shrimp. Crumble the topping over the shrimp. Bake 12 to 15 minutes or until shrimp are bright pink and crumbs are lightly browned. Serve with lemon wedges.
New Orleans Bread Pudding
Follow dinner with bread pudding drenched in Irish cream liqueur. I like using a chewy bread such as ciabatta or French, or try English muffins for a change. Leftover cinnamon bread or croissants are also good choices.  Be sure to reduce the oven temperature after baking the scampi!
Makes 2 servings
1 1/2 cups 1-inch pieces day-old bread chewy bread 3 tablespoons sugar 1/2 teaspoon vanilla 2/3 cup whole milk 1 large egg
Lightly grease two (6 oz.) ramekins or custard cups with nonstick cooking spray. Divide the bread into the cups. Beat the sugar, vanilla and egg in a small bowl until smooth. Beat in the milk.
Pour half of the milk mixture into each cup. Allow to stand at room temperature about 30 minutes or until the milk is absorbed.
Heat the oven 350 degrees F. Bake 28 to 33 minutes or until lightly browned, puffed and set in the center. Test for doneness by inserting a knife in the center. It should come out clean, but it will be wet. Cool slightly before serving.
For a special occasion, spoon a little Irish cream liqueur into the center before serving.
Pat Sinclair is a food consultant and a recipe developer with over 25 years experience.  She develops recipes that are easy, fast and practical for the home cook, keeping consumer's busy lifestyles in mind.

Her newest cookbook, Scandinavian Classic Baking, from Pelican Publishing has just been released. Her first cookbook, Baking Basics and Beyond: Learn These Simple Techniques and Bake Like a Pro, received the Cordon d'Or- Gold Ribbon Award from the Culinary Arts Academy in 2007. She is currently working on Dinner for Two-Easy Healthy Recipes to Fit Your Lifestyle.

Pat has a degree in Food Research from Purdue University and a master's degree in Foods from the University of Maryland. She is a member of Les Dames d'Escoffier, International Association of Culinary Professionals, and the Twin Cities HEIB (Home Economists in Business).

She invites you to contact her at www.PatCooksandBakes.com. Or via her blog.