Chopped Cobb Salad with Crab or Chicken
Chopped Cobb Salad with Crab or Chicken
By Pat Sinclair
NABBW's Cooking for Two Expert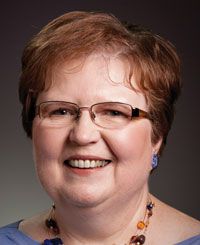 Salads make great dinners because there are so many variations. Just include your favorite ingredients.
Adding crabmeat to this classic salad makes it a dish for a special occasion.
Use 1 to 2 cups of  a high quality canned crab or fresh crabmeat from the fish counter.
You can also use 1 to 2 cups cubed cooked chicken instead of crab.
If you want to use diced chicken instead of crab, cook two extra boneless chicken breasts the next time you grill.
All this main dish salad needs to make a meal is warm crusty French bread.
Makes 2 servings
---
Dressing
½ ripe avocado, skin and pit removed
3 tablespoons buttermilk
2 tablespoons sour cream
1 tablespoon lemon juice
¼ teaspoon coarse salt
¼ teaspoon sugar
3 drops hot pepper sauce
Salad
1 heart of romaine, chopped
2 hard cooked eggs, peeled and chopped
3 strips cooked bacon, crumbled
1 (6 ½ ounces) can crabmeat
½ cup grape tomatoes
¼ cup crumbled blue cheese
2 green onions, chopped
Method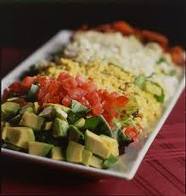 Coarsely chop the avocado and place in the bowl of a mini-processor. Add the remaining dressing ingredients and process until smooth. Thin the dressing with a little milk or cream if it is too thick. Chill until serving.
Arrange the salad ingredients except the green onions on a serving platter. Sprinkle with the green onions and drizzle with the dressing. Serve the remaining dressing with the salad. I like to arrange the ingredients in rows on a serving dish before drizzling with the dressing.
SIDEBAR: Here's an easy method for cooking the eggs. I use eggs that are about two weeks old because older eggs are easier to peel than fresh. Place the eggs in a small saucepan and cover with cold water. Bring to a boil, cover and remove from the heat. Let stand 17 minutes. Pour off the hot water and cover the eggs with cold water. Peel the eggs when they are cool enough to handle.
Pat Sinclair is a food consultant and a recipe developer with over 25 years experience.  She develops recipes that are easy, fast and practical for the home cook, keeping consumer's busy lifestyles in mind.

Her newest cookbook, Scandinavian Classic Baking, from Pelican Publishing has just been released. Her first cookbook, Baking Basics and Beyond: Learn These Simple Techniques and Bake Like a Pro, received the Cordon d'Or- Gold Ribbon Award from the Culinary Arts Academy in 2007. She is currently working on Dinner for Two-Easy Healthy Recipes to Fit Your Lifestyle.

Pat has a degree in Food Research from Purdue University and a master's degree in Foods from the University of Maryland. She is a member of Les Dames d'Escoffier, International Association of Culinary Professionals, and the Twin Cities HEIB (Home Economists in Business).

She invites you to contact her at www.PatCooksandBakes.com. Or via her blog. Copyright 2011 By Pat Sinclair