Bulgur Pilaf with Dried Apricots
Bulgur Pilaf with Dried Apricots
By Pat Sinclair
NABBW's Cooking for Two Expert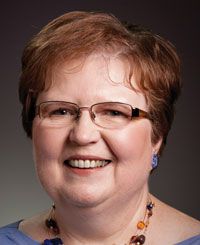 For me, the best meals in the summer start with juicy grilled chicken, pork or seafood. To complete these easy meals, prepare a simple summer side dish made with bulgur.
Bulgur, a nutritious whole grain, is often found in the organic or health food area of the supermarket. Because it has been precooked, it cooks quickly. I like the sweet/sour tang of the apricots with chicken, pork and fish. Try adding dried cranberries or raisins. The cinnamon stick adds a subtle Middle Eastern spiciness to the dish.
SIDEBAR: Bulgur is a nutritious whole grain food. Wheat kernels from soft wheat are husked, steamed, dried and crushed. Because of this processing, bulgur cooks quickly. Some forms require no cooking at all, just soaking in hot water. The Middle Eastern salad, Tabbouleh, is made from bulgur. You can purchase taboulleh mix (bulgur with the seasonings) and add tomatoes and parsley for a fresh taste of summer.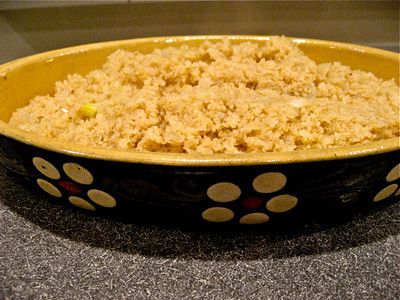 Makes 2 servings
1 cup chicken broth
1/2 cup bulgur (cracked wheat)
1 cinnamon stick or a pinch of ground cinnamon

1/4 teaspoon coarse salt
1/4 cup chopped dried apricots (8-10 halves)
2 Tablespoons toasted slivered almonds
1 tablespoon chopped fresh parsley
1 teaspoon grated orange rind
Combine the chicken broth, bulgur and salt in a small saucepan and bring to a boil over medium-high heat. Cover and reduce the heat to low. Simmer 12 to 15 minutes or until the bulgur is tender. Remove the cinnamon stick.
Remove from the heat and stir in the apricots. Cover and let stand 5 minutes. If all the liquid isn\'t absorbed, drain any remaining liquid. Stir in the almonds, parsley and orange rind.
Pat Sinclair is a food consultant and a recipe developer with over 25 years experience. She develops recipes that are easy, fast and practical for the home cook, keeping consumer's busy lifestyles in mind.

Her newest cookbook, Scandinavian Classic Baking, from Pelican Publishing has just been released. Her first cookbook, Baking Basics and Beyond: Learn These Simple Techniques and Bake Like a Pro, received the Cordon d'Or- Gold Ribbon Award from the Culinary Arts Academy in 2007. She is currently working on Dinner for Two-Easy Healthy Recipes to Fit Your Lifestyle.

Pat has a degree in Food Research from Purdue University and a master's degree in Foods from the University of Maryland. She is a member of Les Dames d'Escoffier, International Association of Culinary Professionals, and the Twin Cities HEIB (Home Economists in Business).

She invites you to contact her at www.PatCooksandBakes.com. Or via her blog. Copyright 2011 By Pat Sinclair</blockquote