Top 10 New Year's Resolutions for Boomer Women
Top 10 New Year's Resolutions for Boomer Women
By Leigh Anne Jasheway
NABBW's Boomer Humor Expert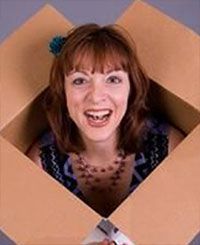 During 2012, I resolve to:
10. Stop denying I dye my hair. No one believes me anyway and all that extra stress just turns more of it gray, which requires more frequent dying followed by more frequent lying … It's a vicious circle.
9. Run screaming every time I see a pair of 4, 5, or 6-inch stiletto heels in a store window. These are not shoes; these are implements of destruction. I need to remember that whatever I might pay the store clerk for the shoes, I'll pay triple to my chiropractor.
8. Stop blaming my mother for things. Instead I'll blame my kids—it's time to pass the torch!
7. Smear my expensive anti-aging cream on the mirror instead of my face. It's the only way they'll actually make me look younger. And hey, if it's good enough for professional photographers and models, it's good enough for me.
6. Vacuum out my crows' feet, especially on dry dusty days. No one looks good with dust mites living on her face.
5. Quit beginning sentences with "When I was young." This presupposes that I am not still young and that's just not true. I'm still 7 or 17 on the inside. Instead, when I feel the need to draw upon history, I'll say, "During my mother's time…"
4. Never add "for a woman my age" to any sentence I begin with pride. "I'm in great shape" is a far better statement than "I'm in great shape for a woman my age." This resolution may, in fact, inspire me to get in better shape.
3. Adopt a male approach to my poochy stomach. I'll give it a funny nickname, learn to play it like a drum, and celebrate it with a beer.
2. Walk right past Forever 21 when I'm at the mall. Sure I can still rock a Spandex miniskirt—but only as a headband.
1. Lighten up about everything. A girl can only tolerate so much drama in her life.
Leigh Anne Jasheway, M.P.H. is a Stress Management and humor expert who helps women and men manage stress, embrace change, and become healthier by learning to lighten up. She speaks at 50-60 conferences and workshops every year and has been a national Speaking of Women's Health and Healthy Woman keynoter. She's a member of the Association for Applied and Therapeutic Humor (AATH). Learn more about her at her website. Leigh Anne's new book, "Confessions of a Semi-Natural Woman" (a collection of 99 of her funniest humor columns from the past ten'ish years – including the one that won the Erma Bombeck Humor Writing Competition – is now available at www.accidentalcomic.com) She also has a new blog. Of if she says, "If you go there and like what you see, you can subscribe by clicking the subscribe button (who knew?)"