Things That Go Boom in the Night
Things That Go Boom in the Night
By Leigh Anne Jasheway
NABBW's Boomer Humor Expert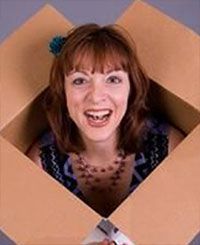 The fireworks stands are up now and I can\'t wait… to strangle somebody. For the past week, we\'ve had fireworks going off
at the schoolyard down the street and it\'s only the middle of June. If this doesn\'t stop, I\'m going to have to put on my bathrobe, put my hair in curlers, light a cigarette, and go
scare me some young men. You know I\'m serious if I\'m willing to let a cigarette touch my lips!
Yes, all the other boys are blowing their fingers off too, but that\'s no reason for you to wake me up at 2:30 a.m. from a dream in which I\'m bathing in chocolate as swarthy yet mute Greek men fan me with magnolia branches. And every time something goes boom, my dogs insist on barking for a full 15 minutes afterward, despite my assuring them that mom will kill the idiots later. Needless to say, I almost woke up on the wrong side of the law this morning. It\'s not a good sign when immediately after checking my e-mail and Facebook page, I google "tasers," trying to find out their range. Their range is not nearly far enough, if you ask me. I want to be able to do my damage without being seen. I have a reputation as the funny lady on the street – don\'t want to ruin it with evildoing. Although after a few more sleepless nights, I won\'t care.
What is the connection between teenage boys (mostly) and their fathers (occasionally) taking to the streets to create a veritable war zone to celebrate our freedoms? Sure, there was firepower involved in becoming the United States of America, but there was also the signing of documents, peaceful protesting, sewing of flags, educating of children, surviving the elements, wearing of funny shoes with buckles on them, etc. So why is it that we don\'t see thread and fabric stands going up every June so that all the children can stitch together their own American flags? I\'m sure emergency room docs would much prefer a few finger-pricks than having to sew whole digits back on because kids forget to let go of the bottle rocket.
I love a good 4th of July fireworks display as much as the next person, but one night is enough. And on that night the booms are usually muffled by the sounds of the 1812 Overture or Beyonce\'s All the Single Ladies. That I can live with. Especially if I\'ve had a margarita beforehand and it\'s not 3:30 in the morning.
So boys, take my advice and leave the explosives to the professionals. Or I\'m going to have to get my revenge. I\'m thinking I\'ll show up at your house at a time you\'re sleeping, say 2:00 p.m., and tell graphic jokes about Menopause into a bullhorn on your front lawn. You celebrate freedom your way, I\'ll celebrate mine.
Leigh Anne Jasheway, M.P.H. is a Stress Management and humor expert who helps women and men manage stress, embrace change, and become healthier by learning to lighten up. She speaks at 50-60 conferences and workshops every year and has been a national Speaking of Women's Health and Healthy Woman keynoter. She's a member of the Association for Applied and Therapeutic Humor (AATH). Learn more about her at her website. Leigh Anne's new book, "Confessions of a Semi-Natural Woman" (a collection of 99 of her funniest humor columns from the past ten'ish years – including the one that won the Erma Bombeck Humor Writing Competition – is now available at www.accidentalcomic.com) She also has a new blog. Of if she says, "If you go there and like what you see, you can subscribe by clicking the subscribe button (who knew?)"