Stylin'
Stylin'
By Leigh Anne Jasheway
NABBW's Boomer Humor Expert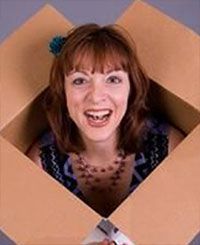 I got my hair cut last week. It used to be so easy to do — I'd pick out a hairstyle from a magazine, rip out the page, and take it with me to the hairdresser. Then we'd both laugh and laugh at the idea that my hair might actually do something "stylish." On occasion, I showed up with pages from DogFancy magazine, but that was mostly during my poodle cut years.
When you're a woman of a certain age, getting your hair cut requires deep introspection and a review of societal expectations.
If I keep my hair longish, for example, does that make me look younger or does it just make me look like I'm trying desperately to hold onto my youth?
One thing longer hair does for certain is fool men walking behind you into thinking you're a babe with whom they would like to hook up. Then when you turn around, they discover you're a cougar with whom they might like to hook up if a babe isn't available. It's a fun game and one of the reasons I've kept my hair long for the past five years.
On the other hand, if I cut my hair short, am I jumping on the Midlife hairstyle bandwagon? And if so, what types of drinks do they serve there? Is a "to-the-chin" hairstyle part of the middle-aged woman's uniform, along with black slacks, a well-positioned scarf, and a mood-swing ring? Or does it say to the world, "I am not my hair!" Because that message is definitely preferable to "I am not my bladder."
I had very short hair for much of my life. I also had a lot more estrogen back then and didn't have to worry that I might be mistaken for a guy. My Lauren Hutton-like voice these days doesn't do much to convince people otherwise.
I did all the soul-searching I could bear. Afterward, I did some key-searching and headed off to the salon, where I closed my eyes and said to the stylist, "Do whatever you want as long as it's not a mullet." After all, there are some styles even a dog-groomer shouldn't revisit.
My hair is now shortish, but it still moves when I shake my head like a dog with ear mites. And if this cut says I'm a midlife woman who's done trying to convince people I'm anything but, good! Now, where'd I put those black pants and that mood ring?
Leigh Anne Jasheway, M.P.H. is a Stress Management and humor expert who helps women and men manage stress, embrace change, and become healthier by learning to lighten up. She speaks at 50-60 conferences and workshops every year and has been a national Speaking of Women's Health and Healthy Woman keynoter. She's a member of the Association for Applied and Therapeutic Humor (AATH). Learn more about her at her website. Leigh Anne's new book, "Confessions of a Semi-Natural Woman" (a collection of 99 of her funniest humor columns from the past ten'ish years – including the one that won the Erma Bombeck Humor Writing Competition – is now available at www.accidentalcomic.com) She also has a new blog. Of if she says, "If you go there and like what you see, you can subscribe by clicking the subscribe button (who knew?)"