Don't Sleep on It
Don't Sleep on It
By Leigh Anne Jasheway
NABBW's Boomer Humor Expert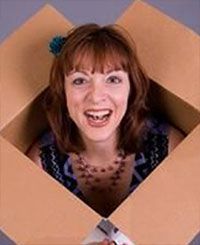 Driving back home from a trip to Portland, Oregon, I saw a full-size travel trailer painted flame red with the black silhouettes of three obviously young naked women on the side. In fact, they appeared to be naked and living on a planet with little or no gravity.
I immediately thought that strip clubs had gone mobile. Yes, it would probably be difficult to stay on the pole as the trailer careens around curves or comes to an abrupt stop, but I'm sure men would pay extra to watch that.
If you think talking on cell phones is distracting, you should have seen the guys in SUVs and hybrids swerving all over the road trying to get close enough to catch a peep of what might be going on inside that trailer. One appeared to be searching for his wallet so he could get out a few single dollar bills. I guess he planned to toss them at the trailer.
The company name on the side of the trailer was slumberparties.com. Needless to say I googled it the minute I got home. Slumberparties.com is like Tupperware, only instead of selling kitchenware that burps, they sell "bedroomware" in case the man in your life burps, thus killing the mood, and you need something to spice up the romance. They even have a "50 Shades" package to follow on the high-booted heels of the bestselling erotic novel.
I particularly loved the lingo used on the website to get women to consider holding their own "slumber party" and encouraging their friends to becomes sales representatives: "It's impossible not to get excited about…" "11 of our consultants got lucky at our conference in Vegas…" "It's time for you to get your girlfriends in on the fun…" These PR people need to get to work on universal health care so everyone will buy into it.
The product line carried by slumberparties.com ranges from glow-in-the-dark condoms to "sexy" ice cube trays (did you just get goose bumps? Were they sexy goose bumps?) to g-strings of the month to whips and bondage tape (it looks like duct tape, but perhaps is scented with pheromones). There was also an inflatable sheep — I have no idea what for. Perhaps to count after the guy falls asleep?
If only those men on the freeway had known what was in the van. Many would have never let off the accelerator, while a few may have braked hard and whimpered for their mommies.
As a Midlife woman, these are not the things that turn me on. I've been there, done that and written my own private erotica about it. Now that I'm less flexible (I had to give up the trapeze over my bed years ago), my needs are different. But that van gave me a great idea — I'll start my own sexual fantasy company for women over 50. I'll call it Hot Mama Jamas.
The Hot Mama Jama erotic product line will include:
Erotic coupons. Each coupon for women to give to men will include: I will not interrupt you for a full day of televised sports-watching, I will nod and agree with you for 10 minutes, You may eat during sex. Those for men to give to women will include: I will learn where the washing machine is located, I will nod and agree with you for 10 minutes, I will hold your purse in public and not make grunting noises to re-establish my manhood, I will clean the tub… Oooh, so sexy.
Specially designed light bulbs that take off 10 years and make a belly pooch disappear.
Make-out music from the 60s and 70s.
A cell phone with a local chiropractor's number pre-programmed (for couples who insist on trying out the Kama Sutra).
Bondage tape to keep the kids out of the room.
Flannel nightgowns with a zipper down the front, both for easy access and to remove quickly during a hot flash.
I'm sure I'll have more product ideas as I start developing my business plan. But I know one thing for sure — my trailer won't feature naked women. It will have silhouettes of men doing chores around the house!
Leigh Anne Jasheway, M.P.H. is a Stress Management and humor expert who helps women and men manage stress, embrace change, and become healthier by learning to lighten up. She speaks at 50-60 conferences and workshops every year and has been a national Speaking of Women's Health and Healthy Woman keynoter. She's a member of the Association for Applied and Therapeutic Humor (AATH). Learn more about her at her website. Leigh Anne's new book, "Confessions of a Semi-Natural Woman" (a collection of 99 of her funniest humor columns from the past ten'ish years – including the one that won the Erma Bombeck Humor Writing Competition – is now available at www.accidentalcomic.com) She also has a new blog. Of if she says, "If you go there and like what you see, you can subscribe by clicking the subscribe button (who knew?)"