NABBW Teleseminar with Dr. Diana Kirschner ~ "Sealing the Deal: The Love Mentor's Guide to Lasting Love"
NABBW Teleseminar with Dr. Diana Kirschner ~

"Sealing the Deal: The Love Mentor's Guide to Lasting Love"
Teleseminar Topic: "Sealing the Deal: The Love Mentor's Guide to Lasting Love"
Hosted by: NABBW
With Guest presenter: Dr. Diana Kirschner
When: Thursday, February 10, 2011 at 8:00 p.m. Eastern time (7 PM Central, 6 PM Mountain, 5 PM Pacific)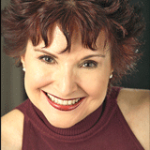 Love expert, media psychologist and bestselling author, Diana Kirschner Ph.D has helped thousands of singles and couples find their dream relationships. She is the go-to psychologist for TV talk and reality shows.
A recurring guest on the Today Show, she has also appeared on Oprah and starred in a PBS Special on love. Her new book, Sealing the Deal: The Love Mentor's Guide to Lasting Love has received rave advance reviews from luminaries such as John Gray, Dr. Christiane Northrup, Arielle Ford and Dr. Judith Orloff.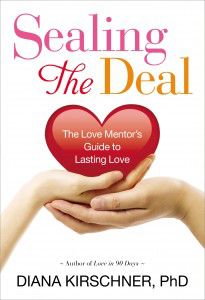 Dr. Diana is widely quoted as a love and relationship doctor commenting on dating, couples and family issues in The New York Times, USA Today, Time Magazine, The New York Post, The LA Times, Cosmopolitan, and People magazines, Yahoo.com and many more.
She also ran the Institute for Comprehensive Family Therapy, a nationally-recognized post-graduate center devoted to training psychiatrists, psychologists and therapists all over the world in a unique approach which combined individual, couple and family therapy.
Dr. Diana has helped thousands heal from heartbreak, date terrific partners, deepen their relationships and find lasting love that is just right for them. Her acclaimed free Dating Tips & Relationship Advice newsletter is available at her website LoveIn90Days.com.
And now NABBW is delighted to have the opportunity to do a teleseminar with Dr. Diana on the subject of her new book — just before Valentine\'s Day.
As you listen to this call you\'ll want to be sure to have a pen and paper handy because she has an extraordinary personalized gift for all our listeners!
Here are some of the topics we will cover in this vitally important 60 minute teleseminar:
The most important thing you can do to create lasting passionate love.
The four steps of the powerful Love Mentoring process.
The single biggest mistake women make in love relationships.
Key secrets to having a very successful "Talk" with your man — and the best time of day to approach him.
The seven "real" laws of attraction and how to use them to become irresistible to your man. (Note: these laws don't include looking younger or thinner.)
Men's eight fears of commitment and how to handle each them.
How to keep the sparks flying even after the "feel-good" chemicals that cause us to fall in love are gone.
Whether or not it is true that "Once a cheater, always a cheater?"
Five ways to heal Heartbreak.
This call is FREE and OPEN to the PUBLIC so be sure to tell your friends about this event!
THURSDAY, February 10, 2011 – 8 PM Eastern Time.