Lorraine Miano, Integrative Certified Health Coach — Holistic Menopause Health Associate
Lorraine Miano, NABBW's Holistic Menopause Health Associate, is an Integrative Certified Health Coach certified in hormone health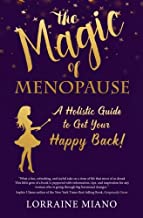 and author of the book, "The Magic of Menopause: A Holistic Guide to Get Your Happy Back!"  She is passionate about working with women in all phases of menopause – peri menopause through post menopause – with the clear goal of helping us overcome weight, metabolism and aging concerns, so we can have more energy, less stress, and feel comfortable in our own skin.
Lorraine's goal is to help Western women understand that menopause can – and should – be viewed as the time we women come into our own, finally becoming the influential and powerful beings we were meant to be. She reminds us that in non-Western cultures —  from Japanese to Greek, Native American, Indian, Chinese, Korean and African societies, elder women are held in high esteem – and appropriately venerated for their wisdom. You can learn more about Lorraine and her positive approach to aging on her website: TheMagicofMenopause.com
Lorraine's favorite mantra is "Menopause is NOT an ending. It IS a new beginning." If you are a woman searching for support, resources, and a whole lotta love, please join Lorraine's private menopause support group: Making Menopause Magical.