Organize a Mid-Life Zest Fest
Organize a Mid-Life Zest Fest
By Georgian Lussier
We all know middle-aged women who are talented, funny and wise; they are our friends and colleagues. Surrounding ourselves with good souls helps us keep our feet planted and our hearts open. Aging experts also recommend we consciously schedule time with people who make us laugh –it\'s good for our bodies, minds and spirits.
Gathering a handful of women together, however, can be tricky. Experienced women are magnificent at multi-tasking, making their calendars changeable. For example, four of us friends, including a few who live forty minutes away from one another, rescheduled a wine date four times — before giving up.
But borrowing from the concept of an open house, I hit on a meeting approach that worked: Stage a "Mid-Life Zest Fest" series. I invited a wide range of friends, for four consecutive Tuesday evenings. I used Facebook, emails and phone calls to entice women to free up about two hours a week, just to chat, meet new friends and laugh. There was no cost, no obligation — women could come to any one, or all, of the sessions.
One personal impetus was an upcoming speaking engagement at a women\'s conference. Building on my recent book, 55+ Unite! Welcome All Wise Working Women, my topic was our \'amazing mid-life brains.\' I wanted to tap into collective thinking and test some ideas, for an audience of women aged 40 plus.A good friend was co-presenting with me, and agreed we should immerse ourselves in plain old girl talk.
The Mid-Life Zest Fest idea was also sparked by visiting a unique rental room called The Secret Garden. A woman in her late 40\'s spent about 400 hours covering every inch of the four walls with lush, original artwork. Soaking in the greenery, animals and outdoor scenes, I thought "I have to find a use for this incredibly creative atmosphere." With no windows to the outside world, it felt like you entered a positive, protected space. My Zest-Fest invitation included the promise that "What happens in the Secret Garden, stays in the Secret Garden."
Thirteen women came the first night, and about half were able to come the other three sessions; each time was a slightly different mix. I put on my facilitator hat, providing name tags and doing a round-robin of introductions. Handouts included a mind-map of colored bubbles, encouraging women to "… greet a new friend … breathe … laugh ….add to the flip chart … have a cupcake … share a wit& wisdom card … stay in touch!"
In addition to the cupcakes, I offered wine and soda, and made copies of articles for discussion, or to take home. I created \'Wit & Wisdom\' cards by printing funny or wise sayings on folded paper, sealed with a sticker, and passed around in a "Hello Kitty" container. I also discovered outrageous sun glasses at a party store, which, when combined with wine, are instant ice breakers.
Two poster boards with photos and articles about aging women greeted women as they entered the room, and a flip chart on a sturdy easel said "Mid-Life Means…" Each week I typed the responses and distributed copies. Our stream of consciousness is as follows:
Mid-Life Means … No periods. Making it work – no going back. Caretaker – like the airlines; your mask before the child\'s. A paradigm shift – new possibilities are possible! More questions than answers. Live with integrity. Fit things in — but not enough space! (But find ways to grow, pick up things you enjoy). Give each other a break; passions, money, parents, kids — our own stuff. Maturity = you know what you need to do. Interruptions – always being "on call."
The final session was magical: We produced a group collage. I provided a very large poster board and basic supplies, such as glue sticks, scissors, stick-on letters, background paper, stamps & ink, markers, etc. I asked the others to bring photos, words, and ideas. Cupcakes and wine fueled our creativity.
A friend and I arrived early and started the collage by arranging letters that proclaimed "The Quest for Zest Continues" in an arc across the board. As women arrived we worked on separate sections, while making suggestions on how to pull it together. Six of us, in a matter of two hours, produced what I consider to be a profound statement of spirit. We bypassed our logic and portrayed our passions though color, symbols, and supporting words.One woman pasted a photo of a model\'s leg, and wrote alongside "Do we really need high heels to elevate our lives?" Another printed "Time is Immeasurable" above a paper ruler.
A talented participant used photo-shop to produce a group photo; six middle-aged women, wearing funky sunglasses, around our collage, in a wild garden. I did get permission before posting the photo on Facebook, but there was no need for tags. Our eyes were shielded but our postures said "We are not invisible — not finished — we\'re on the move."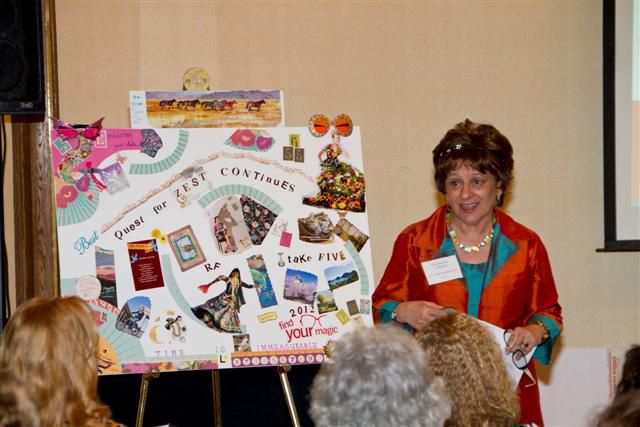 Well, we hauled that collage into our presentation, and proudly displayed it as evidence of what Margaret Mead called \'the power of postmenopausal zest\'. Attendees came up to study it, and one remarked that "this is the most beautiful vision board I\'ve ever seen."
Whether it is called a collage or a vision board, this unplanned outcome of hosting the Mid-Life Zest Fest encouraged me to think of other ways to facilitate group discussions and creative experiences. My next endeavor involves headphones, web cams and the inspirational book by Clarissa Pinkola Estes, Women Who Run with the Wolves.
Organizing a \'Zest Fest\' has no rules; I invented the idea, and you can shape a similar event. For me, I paid the modest rental fees, picked up affordable wine, baked cupcakes at home and made a few runs to Michael\'s for supplies. The most important ingredient is a flexible, fun attitude — just start, and say "Let\'s See".
Georgian is the author of three books, including 55+ Unite! Welcome All Wise Working Women, which is available on Amazon. She has 35 years of human resources experience and holds a Masters in Organizational Behavior. Visit her website at http://hrhelp.squarespace.com.