Will Medicare Cover Me When I Travel Internationally?
By Linda Ballou NABBW's Adventure Travel Associate
Last month, we began a two part discussion on your Medicare coverage when you travel. This is an important topic, since so many of us Boomers, bitten by the "travel bug," hit the road as soon as we retire. Of course, your Retirement and the opportunity to become covered by Medicare often happen close together, which means you may be traveling before you've had the opportunity to become totally familiar with your Medicare coverage. 
Last month, we looked at Medicare coverage during domestic travel. (That is, travel within the United States, Guam, Puerto Rico, the Northern Mariana Islands, the U.S. Virgin Islands, and American Samoa.) This month, I'm covering information on Medicare and international travel. Again, my expert source is Danielle K. Roberts, co-founder of Boomer Benefits. Her initial point is to clarify that anytime you travel outside of the six countries mentioned above you are traveling internationally.
Because Medicare is an American program, you can expect your coverage outside of the United States will be quite limited. In fact, outside of the United States,  you are generally only covered by Medicare and its plans when a medical emergency occurs. Here is how each form of coverage works when you travel outside of the U.S.
Original Medicare and International Travel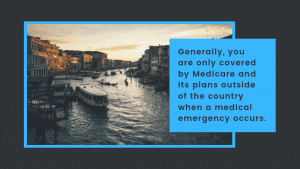 Original Medicare will only cover you outside of the U.S. in very particular situations. For instance, Original Medicare won't cover your emergency room visit at a foreign hospital if you are backpacking through Europe. However, if you are traveling through Canada back to the states from Alaska or to Alaska from the states and an emergency occurs, then your ER visit may be covered if the Canadian hospital is the closest hospital to you.
Original Medicare may also cover your ER visit if an emergency occurs while you are in the U.S., but a foreign hospital (such as a Canadian or Mexican one) is closer to you. Medicare may also cover your medical care (non-emergent care included) in a foreign hospital if you live in the U.S., but the foreign hospital is closer than an American one. This sometimes applies for people who live in border town areas.
Medigap and International Travel
Out of the ten Medigap plans available in 2019, six of them offer a foreign travel emergency benefit, including the very popular Medigap Plan G. This benefit can be accessed once an annual $250 deductible has been met. Once that deductible has been paid, your Medigap plan will cover 80% of your emergency medical costs.
Within this benefit, you have a lifetime limit of $50,000. Once Medigap has paid $50,000 towards your foreign travel emergency medical expenses, you will be responsible for 100% of any future foreign medical expenses.
Medicare Advantage and International Travel
Medicare Advantage plans are regulated by the private insurance carriers that sell them. These private insurance carriers are allowed to offer additional benefits to their plans as long as they stay within the Medicare-approved list of allowed benefits.
One allowed benefit that Medicare Advantage plans can offer their beneficiaries is emergency coverage during foreign travel. Since the carrier gets to set the plan's copays, coinsurance, and deductibles, each plan can be different as to how much coverage you will have outside of the country. You can expect to share in some of the costs.
Submitting Claims Outside of the Country
Foreign hospitals are not required to submit claims to Medicare. Therefore, you will likely have to do this yourself. You will most likely have to pay out-of-pocket for the medical services you receive while out of the country. Then, once you return to the states, you can file a reimbursement with your Medicare plan.
An alternative to using Medicare outside of the country is short-term travel insurance. This type of plan may offer you more comprehensive international medical coverage than Medicare is able to offer. Talk with your travel agent to learn more about short-term travel health insurance plans.
Thank you, Danielle, for this very important information. Danielle and her team help Baby Boomers navigate their Medicare insurance options. She is a member of the Forbes Finance Council and writes frequently about Medicare, retirement and personal finance.
Finally, I always recommend purchasing Emergency Medical Evacuation Insurance to cover gaps in Medicare coverage whether traveling domestically, or internationally. Travel Guard is the only company that I know of that will let you purchase that coverage separately from their more comprehensive packages. It runs about $75.


Linda Ballou is an adventure travel writer with a host of travel articles on her site www.LostAngelAdventures.com. You will also find information about her travel memoir, Lost Angel Walkabout-One Traveler's Tales from Alaska to New Zealand, and Lost Angel in Paradise where she shares her  favorite  hikes and day trips on the coast of California.
Subscribe to her blog www.LindaBallouTalkingtoYou.com to receive updates on her books, travel destinations and events.