The Rocky Mountains Are Calling Linda Ballou, Here's Where You Can See Her Speak During Her September Majestic Mountain Tour
By Linda Ballou, NABBW's Adventure Travel Associate
Isabella Lucy Bird was a Victorian Age adventurer who endured tremendous hardships in her explorations of the Rockies in 1873.
She became the best-loved travel writer of her time, and was the first woman inducted into the Scottish Royal Geographical Society. In my book Embrace of the Wild, I share Bird's most transformative journeys.
A fierce spirit trapped in a frail body, Isabella rode through raging waters on the Hamakua Coast, up the flank of a volcano, and into the Waipio Valley in Hawai'i.
Her exploratory adventures began at the age of 40, when she lifted herself from her invalid's bed, threw off the shackles of her Evangelical upbringing, forging on to explore distant lands where no white woman had yet dared go.
There are numerous books written about Isabella, with three new ones released in 2021, two nonfiction and my historical novel Embrace of the Wild.
I was in Estes Park in April for the filming of Trailblazer a BBC documentary about Isabella Bird, the plucky English woman who inspired my book. I am thrilled that they chose to cast me as the Isabella Bird expert in the TV series reconstructing her journey, that will air this fall.
Filming of my interview took place at the Bird & Jim Restaurant. Founder, Melissa Strong has her own story of courage and determination that she is in the process of writing. She was so inspired by Isabella's indomitable spirit she named her restaurant after her and her romantic interest, Rocky Mountain Jim.
"I thoroughly enjoyed submerging into Isabella Bird's world through Embrace of the Wild by Linda Ballou. The author did an outstanding job expanding on Isabella Bird's story, magnifying her character, and opening a window for readers to look deeper." Melissa Strong owner of the Bird & Jim restaurant, Estes Park, Colorado.
Like Isabella, I am fully engaged in the state of exploration. I am soon to embark on a Majestic Mountain Tour, tracing the path of Isabella through the Front Range of the Rockies.  Fellow author Pat Jurgens, a 60-year Colorado resident, is helping me plot my course.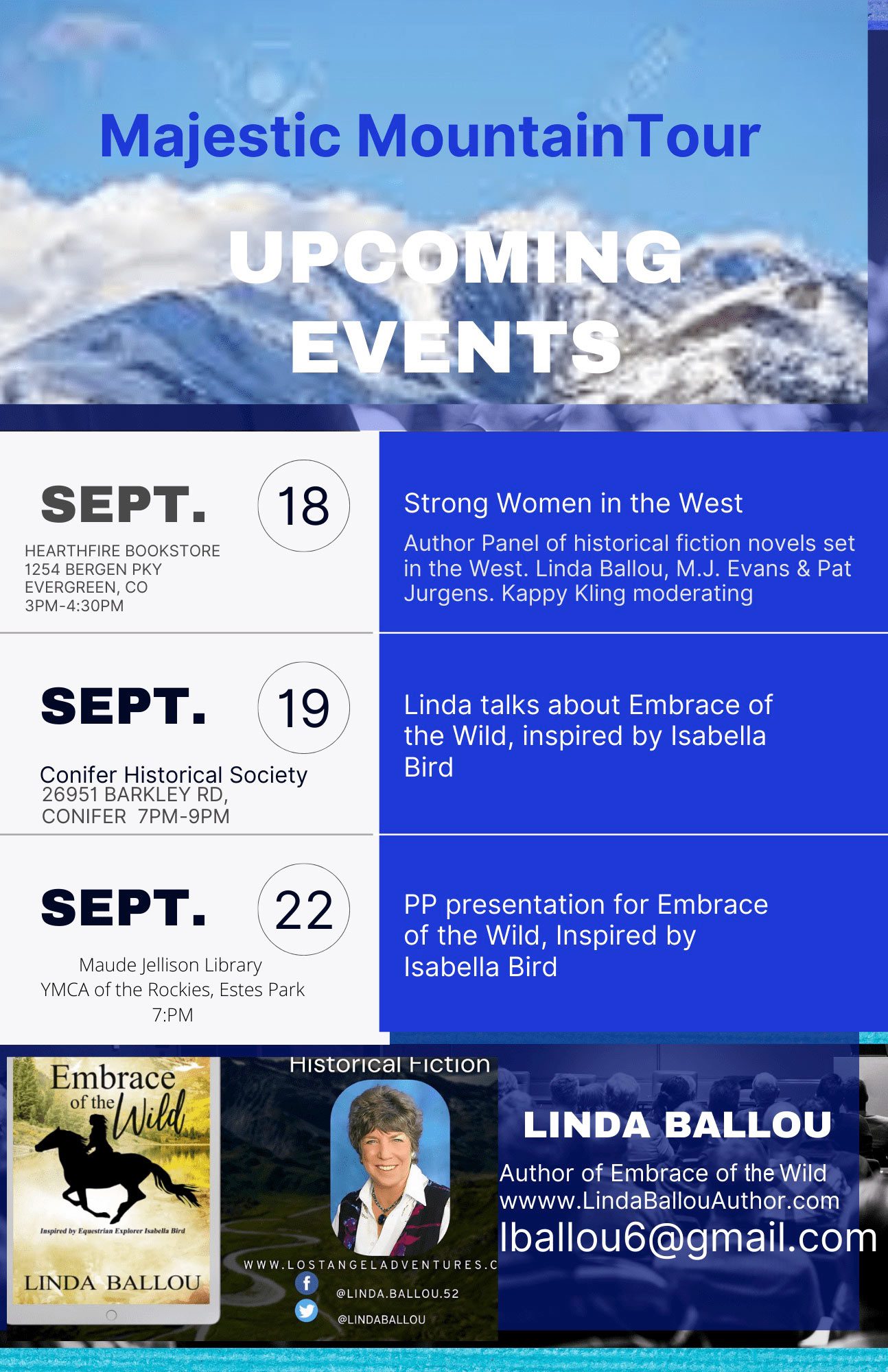 Pat is also appearing on the Strong Women in the West Author Panel with me at the Hearthfire Bookstore in Evergreen. Colorado on September 18th. I am honored to be speaking at the Conifer Historical Society on September 19th. My power-point presentation at the Maude Jellison Library in Estes Park on the 22nd of September will be the finale of my tour.
I am looking forward to walking in the footsteps of Isabella Bird. I am relishing Colorado's intoxicating air and aspens spinning their gold beneath brilliant blue bird skies.
Note: All article photos are courtesy of author Linda Ballou. She is an adventure travel writer with a host of travel articles on her site www.LostAngelAdventures.com. You will also find information about her travel memoir, Lost Angel Walkabout-One Traveler's Tales from Alaska to New Zealand, and Lost Angel in Paradise where she shares her  favorite  hikes and day trips on the coast of California. Find her at www.LindaBallouAuthor.com