Soak in the Serenity of St. Croix
By Linda Ballou, NABBW's Adventure Travel Associate
A single white sail drifts by where I lay on warm sand beneath a fringe of palm trees. Hotel guests on paddle boards and a family of locals floating like a raft of ducklings in translucent water share the unspoiled beach.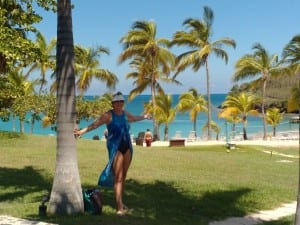 St. Croix, the gentle virgin, as Cruzans call their sleepy isle, is off the grid for most tourists. Sitting on the horizon nearly 38 nautical miles way, bustling St. Thomas is bombarded with cruise ships three times a day, while St. Croix gets a visit about once a week!
Sharon North Pohl, avid horsewoman and founder of Zealous Horses invited me to test drive a Wellness Week with equestrian opportunities that she hopes to offer in April of 2016.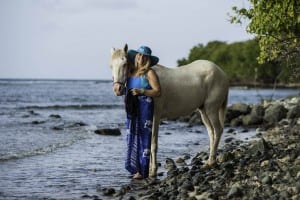 Her site, ZealousHorses.com is chock full of products and information for horse lovers of all stripes. Since retiring in St. Croix, she has come to love her island home and wants to share its beauty and rich history.
The week she envisions is well rounded in activities and shows off her island paradise. It involves horseback rides in the surf and through the rain forest; exploring reefs with colorful fern fans, brain corals, and a vast array of florescent fishes and other marine life; lolling in tantalizing turquoise waters; setting sail at sunset beneath outrageously beautiful skies; hiking to tide pools through a shady tunnel of ferns and trees; and dancing to a steel band beneath the starry stars. She hopes you will wonder why you didn't' come here sooner and that you will yearn to return.
LB: Why do you want to offer a wellness week for riders?
SNP: I've been working with horses in many different capacities for over 30 years. I like to share with others and help them grow and actualize. Especially women closer to my age (50-70ish) who I think will enjoy a trip that combines relaxation with outdoor activities that might push their boundaries.
LB: Is this offering exclusive to female riders?
SNP: No, not at all. But, it is my experience that single women bond easier than a group of couples. It is certainly not limited to riders; I just felt that was my main connection.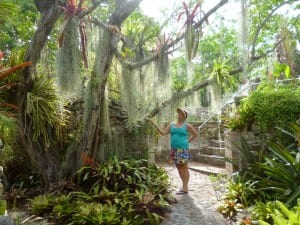 LB: Which activities will be included in your wellness week?
SNP: St. Croix is a very green island on the west end and quite dry on the east. It has the best preserved ruins from the sugar plantation era and wonderful museums housed in two forts built in the mid 1700s. A tour of the entire island that will give guests an overview of the diversity and history of the island will be included.
Stretching on the beach with a yoga instructor will be the start to each day. Healthy food will be on the breakfast, a lunch and buffet dinner menus that are included. Guests will have the opportunity to explore some of the fine eateries on the island on their own.
I will offer group swims and snorkels and guided hikes for those who are more robust. There are numerous other options offered on the island from other operators like day trips to Buck Island, a marine preserve with a well-marked snorkel trail and white sand beaches for those who want a day off from the group.
Depending upon the time of year, there are carnivals or jump-ups, which are like a town fair. The largest being at Christmas through the first week of January. The April carnival celebrating St. Patrick's Day is the one I love. It happens in Christiansted, a charming colonial town on the harbor close to the hotel where we would be staying.
LB: What sort of lodging would be provided?
SNP: The Tamarand Reef in Christiansted is a beachfront hotel with some of the best snorkeling on the island. They have a spa center where guests can indulge in a massage. Steel drums are often heard at the outdoor pavilion where locals and guests stop by for a cool one at the end of the day.
LB: What sort of gear is provided?
SNP: We would provide all snorkel gear and kayaks from the Tamarand beach shack.
LB: What are the optional rides like on the island?
SNP: There are two providers on the island.
Steven O'Day of Equus Rides, The Cane Bay Cowboy, is a sunset journey along the coast and into the sea that takes you through 17th century ruins.
Paul and Jill's on the Fredericksted side of the island is a more traditional trail ride through the sub-tropical forest, with a canter on stunning Rainbow Beach.
Both rides are a couple of hours and geared to novice riders, or advanced riders depending on their abilities.
LB: How do people sign up for your wellness week?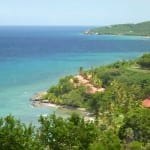 SNP: They simply go to my site ZealousHorses.com and e-mail me from there.
I will need a minimum of six to make the week happen. There will be discounts offered if you bring a friend. I am also happy to give guidance to independent travelers who are thinking about coming to St. Croix.
I marched behind Sharon for a week sampling the beauty and learning about the sometimes dark, but always fascinating history of the island. St. Croix once had over 350 sugar cane plantations and was the thriving center of slave trade for 200 years.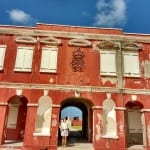 The Whim Museum is one of the best preserved plantation settings in all of the USVI. In St. George Village Botanical Garden near the Whim, slave quarters have been converted to an orchid display.
There is a comprehensive collection of tropical flora sprinkled throughout ruins in the 16-acre private estate. The hike on the remote, pristine west end of the Island through a shady tree-tunnel on a path with grand vistas and a teasing breeze off a sequined sea far below remains a treasured memory.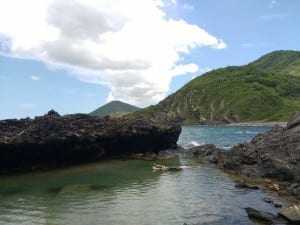 A scramble over rocks through sloshing waves brought us to the tide pools where we welcomed a soothing float in tepid waters. Soaking there in the serenity of St. Croix, I felt I could not have asked for a better way to get well!
If you go: St. Croix is a three hour flight from Miami in the American Virgin Islands. U.S. dollar is the currency. No passport required.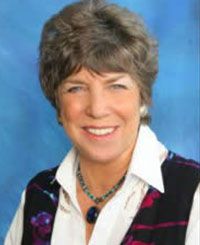 Linda Ballou says her mission is to experience as many beautiful places on our planet as she can, before they are no more. "Travel tales relating my experiences while kayaking, horseback riding, sailing, birding and hiking about the globe have appeared in numerous national magazines.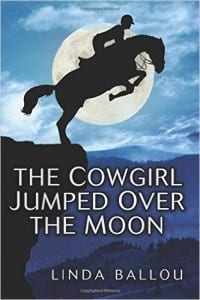 I had a great deal of fun collecting travel stories, and profiles of people I have met in "naturally high places" for my book, Lost Angel Walkabout-One Traveler's Tales, while my latest book, The Cowgirl who Jumped Over the Moon, deals with horses,  World Cup racing, and the beauty of California's High Sierras.
For a complete bio as well as published on-line clips with photos go to my website www.LindaBallouAuthor.com. Your reward, aside from learning about me and my work, will be to discover the secret to youth! Follow my blog or friend me on Facebook to keep up with my latest adventures."