SLO's Apple Farm Inn: A Sweet Spot on California's Central Coast
By Linda Ballou
NABBW's  Adventure Travel Associate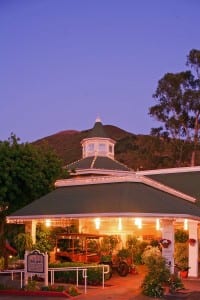 Situated halfway between San Francisco and Los Angeles in sun-kissed San Luis Obispo is the Apple Farm Inn, a perfect place to shake off the road dust.
The Inn is easily accessed off of Highway 101, and its steaming outdoor spa and cool pool are guaranteed to smooth out the kinks. Stroll the delightful gardens overlooked by a saw mill replete with a working water wheel reminiscent of days gone by.
SLO, as locals call it, is nestled in the heart of California's wine country. Gracious hosts at the Apple Farm offer complimentary wines between 3 and 7 every evening.
When you are ready, saunter over to the restaurant for a generous helping of comfort food from prime rib to trout and salads made from fresh local gardens. Did I mention desserts to die for?
The Inn's luxurious country suites are outfitted with all the niceties of home including a four-poster bed with lacy awning. Sitting areas have a push-button fireplace to cozy up to with a good book. Enjoy the breakfast-in-bed option for a leisurely rise. Fresh fruit and samplings of luscious baked goods prepared on the premises are delivered to your door, along with the local paper.
Not up to a long drive? The hotel will shuttle you to and from the Amtrack Station nearby. From there a trolley whisks you downtown—a twenty-minute walk away. On Thursday nights there is a happening farmer's market with live music and a lot more than vegetables. Fridays feature jazz concerts in the park. If you want an adrenaline spike, try out the new zip-line at Santa Margarita Adventures that traverses you over the vineyards. SLO is anything but, if you know where to go.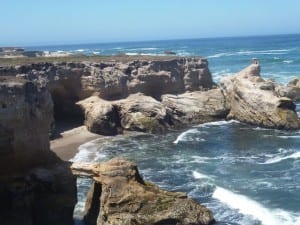 The sun is always shining in San Luis Obispo no matter how gray it may be in Morro Bay just 12 miles away. The cool on the coast is great for day hikes in the 8,000-acre Montana de Oro State Park overlooking striking bluffs carved by ceaseless aquamarine waves, or kayaking across the bay to walk across the dunes to the wider ocean.
The Morro Bay Estuary attracts birders from all over the globe. A competition for the best seafood awaits you at the Embarcadero with plenty of seating overlooking the marina and Morro Rock. Tognazinni's at the end of the dock across from the power plant towers is a local favorite with a fish market and outdoor casual café as well as an indoor restaurant.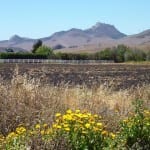 Heading north on Highway One just past Villa Creek Road, I discovered a less-traveled hike at the Harmony Headlands that leads you through a meadow livened by birdsong to a wild walk along coastal bluffs. Keep your eyes peeled for a small parking lot and sign that says coastal access.
If you haven't been to Hearst Castle it is worth going just to enjoy the view the newspaper magnate chose for his elaborate estate. It sits on one of the last undeveloped stretches of coast that begs you to stop and stroll the sands at San Simeon State Park.
Elephant seals gather a bit further up the highway where docents share the secrets of the blubbery blowhards with outrageous snouts.
Just beyond Cambria, keep an eye out for the Exotic Garden Drive that takes you to a great lunch stop. Seating arrangements of all kinds are scattered around grounds bursting with all manner of blooms. A casual food counter serves dishes prepared from fresh local ingredients that can be taken outdoors and enjoyed in the garden. You can purchase plants here and browse the gift shop.
If a drive along a shady creek and farms festooned in bright blooms appeals, you would enjoy a Sunday drive up Santa Rosa Creek Road out of Cambria. It gets a bit daunting as it rises to meet Highway 46 back to SLO, but it is well worth the butterflies to get to the vistas.
This special region takes us back to the beauty of early California and is just a day-trip away from the Apple Farm Inn.
Linda Ballou says her mission is to experience as many beautiful places on our planet as she can, before they are no more. "Travel tales relating my experiences while kayaking, horseback riding, sailing, birding and hiking about the globe have appeared in numerous national magazines.

I had a great deal of fun collecting travel stories, and profiles of people I have met in "naturally high places" for my book, Lost Angel Walkabout-One Traveler's Tales, while my latest book, The Cowgirl who Jumped Over the Moon, deals with horses,  World Cup racing, and the beauty of California's High Sierras.

For a complete bio as well as published on-line clips with photos go to my website www.LindaBallouAuthor.com.Your reward, aside from learning about me and my work, will be to discover the secret to youth! Follow my blog or friend me on Facebook to keep up with my latest adventures."