Sun Damage is Cumulative, But It Might Not Be Too Late to Save the Skin You're In
By Linda Ballou
NABBW's Adventure Travel Associate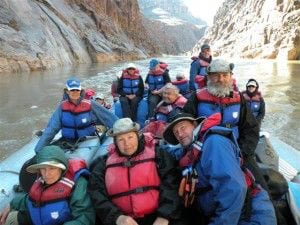 A glint of jealousy flashed in the eyes of my fellow adventurers on the jet boat ride out of the Grand Canyon when I whipped out my lightweight mask, secured it to the frame of my sunglasses, and turned to face 60-mile-an hour winds.
This handy defense against the elements helped protect my skin from the wind and intense glare of the sun reflecting on the water. Less than an ounce of protection in my pack prevented me from receiving skin damage with no cure.
In Alaska, where I grew up, it is said that there is no such thing as bad weather just bad gear. If you are prepared you can handle whatever Mother Nature has up her sleeve.
Skin cancer in America is appearing in the population in epic proportions. Outdoor-loving "Boomers" are the most likely demographic to be diagnosed with skin cancer or other forms of skin damage. Our generation was less sun-protection minded.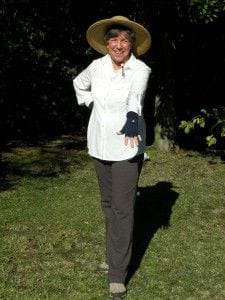 Many of us spent endless hour's sun worshipping without using proper defenses. Sadly the effects of over exposure to damaging UVB and UVA sun rays are cumulative and tend to come to light in later years. Happily it is not too late to take steps to prevent further damage to your skin, the largest organ of your body.
However, not all sun screens are created equal. Your skin responds to UVB exposure with a delayed burn three to four hours later.
Sun screen is an obvious deterrent that most of us use when we engage in outdoor activities. Scientists now believe UVA rays causes many other skin problems that don't show up as quickly. UVA is present in nearly the same levels year-round and all day long. It can pass more readily through clouds and glass. The problems caused by UVA can take many years to be apparent, but they are quite real and can be quite serious.
You should select a sunscreen that says it provides a multi-spectrum protection, broad-spectrum protection, or UVA/UVB protection rating with zinc—not just a sunscreen with high SPF—and re-apply it every two hours.
You need to exercise daily, but you can take your walk in the early morning or in the cooler hours in late afternoon, or even at night.
Develop a consciousness that keeps you out of peak hours of sun's most intense rays. Choose the shady side of the street or a hike that takes you beneath a tree canopy.
Of course, always have an umbrella at the beach. Wear a wide-brimmed hat. A baseball cap is not enough to cover your neck, the tops of your ears, or the sides of your face.
I believe in skin protection so strongly, I've created and posted a video, showing how I integrate all of these pointers when "suit up" to protect myself on my daily walks. You can see it here.
During the 1980s the Australian government took steps to deter a mounting skin cancer epidemic in the land down under. Sun protection clothing which is more effective, less expensive in the long run and more reliable protection than sun screen came into being. Long sleeved shirts, pants, beach and street wear are now available that provide protection from both UVB and UVA rays. But, the buyer needs to beware as this industry is not regulated by the FDA. Unlike sunscreens, which have SPF ratings based only on UVB, clothing is rated for its protection against both UVA and UVB. Look for labels that say "Blocks 98%UV UPF 50+."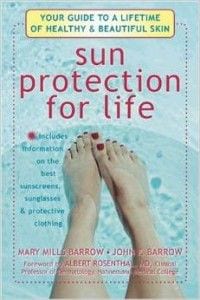 It is important that you give yourself an all over body checkup periodically. Look for dark mole-like growths with irregular borders. These can show up anywhere on your body, even between your toes. Boomer men are at the highest risk of skin damage in dangerous advanced stages because they are likely not to do inspections or to ignore changes in their skin.
Most skin cancers can be surgically removed in early stages, but are very hard to contain or reverse when they are in advanced stages. People of color are also very vulnerable as the dark splotches are not as noticeable on their skin. They need to be extra vigilant. For more in-depth information on this hugely important topic, I recommend you read  Sun Protection for Life by Mary Mills Barrow & John F. Barrow
I love river rafting and horseback riding, so I invested in fingerless gloves that allow full mobility but protect the tender skin on the top of my hands that are exposed to intense wind wet and sun in these sports. I don't intend to stop doing what I love, but I have beefed up my defenses.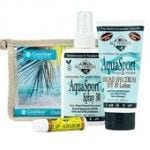 Coolibar is an Internet-based company that brings Australian advances in skin-saving sun wear to America. They have a complete line of sun protection clothing for adults and children with the highest quality and strongest UVB/UVA protection available. I found my face mask, fingerless gloves, wide brimmed hat, and long sleeve travel shirt in their catalog. Now I can say "Bring it On, Mon…I'm ready!"
Linda Ballou says her mission is to experience as many beautiful places on our planet as she can, before they are no more. "Travel tales relating my experiences while kayaking, horseback riding, sailing, birding and hiking about the globe have appeared in numerous national magazines. I had a great deal of fun collecting travel stories, and profiles of people I have met in "naturally high places" for my newest book, Lost Angel Walkabout-One Traveler's Tales. For a complete bio as well as published on-line clips with photos go to my website www.LindaBallouAuthor.com. Your reward, aside from learning about me and my work, will be to discover the secret to youth! Follow my blog or friend me on Facebook to keep up with my latest adventures."