Rock On, Morro Bay!
By Linda Ballou, NABBW's Adventure Travel Associate
Every year, hundreds of birders flock to the sleepy fishing town of Morro Bay on California's Central Coast to take part in the Audubon Birding Fest.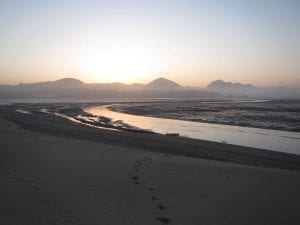 The Pacific's salt water mixed with the fresh water of streams flowing in the largest estuary on the west coast result in a nutrient-rich brew for thousands of birds.
The charm of the rust-colored, reed-choked estuary is subtle, but upon closer inspection you will find its beauty undeniable.
During the birding fest that takes place on Martin Luther King weekend, there are 140 different activities to match every level of enthusiasm. Be you a wild-eyed birder frantically checking off your life list, or a casual nature lover who just likes to add another dimension to their walks, there are activities for you.
On "The Big Day," birders are ferried around to birding hotspots in the region and often garner as many as 100 species to their lists.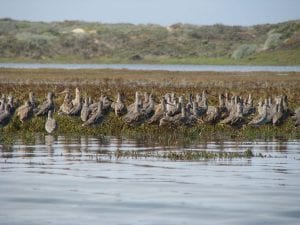 In the "Little Sit," those who don't hike can enjoy the covered 4th Street Audubon Lookout overlooking the estuary for a couple of hours and observe whoever appears on the scene in that time.
Over 50 species can be spotted with this very comfortable option. A list of birding hotspots and activities during the fest are on the Audubon website.
According to the fest co-founder, Chris Cameron, there were 600 people at the fest this year with 211 species identified.
For $65.00 you can partake in the many Audubon events that take in local birding opportunities and surrounds. Organizers take birders as far south as the dunes in Pismo Beach, and as far north as Ragged Point on the edge of Big Sur. Some of the choices require an additional fee but are worth the price of admission.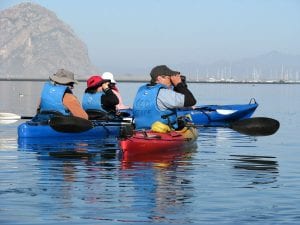 The absolute best way to see animals and birds up close without disturbing them is in a soundless kayak.
For those who can't slip into a kayak, electric boats in the main harbor are available.
If you only have one day to explore the estuary, do it with Virginia or John Flaherty of Central Coast Outdoors. They have an encyclopedic knowledge of the birds and marine life and love to share information with guests on their tours. They also offer hiking and biking tours.
Ominous clouds mushroomed over the Back Bay Marina where I met Virginia at the kayak take-out point. The bay was calm in the morning, so we were able to glide easily toward the marsh channels lined with thick mud at low tide.
As we paddled toward a large channel in the estuary she pointed to pintails, buffleheads, and ruddy ducks while I sat in the front ogling with abandon. Tiny eared grebes curled under as we paddled by, and I felt part of the postcard setting with green mountains ringing the centerpiece of the 27,000-acre Morro Bay State.
A pod of curious harbor seals haul out every day on the banks of the estuary to rest after a night of hunting. Heads with curious black eyes bobbed within feet of our craft.
One seal, gathering heat from the weak sunlight, arced his body with flippers spread and struck a sultry pose against iconic Morro Rock in the distance.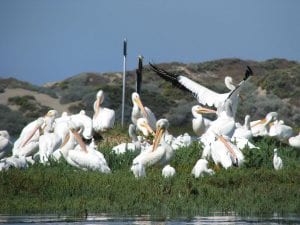 Deeper into the channel were sightings of hundreds of willets and the resident white pelican population. These birds, twice the size of brown pelicans, once migrated, but have decided that the estuary is a good home year round. I agree. No matter what time of year you come here, nature is plentiful and full of surprises.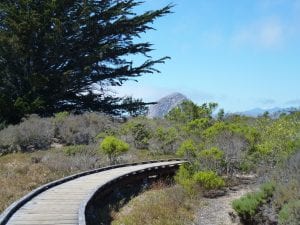 Before leaving the marina, be sure to partake in the selection of sandwiches and chowders at the Back Bay Café where bakery goods are made fresh daily.
And don't miss the marina boardwalk at the south end of the boat harbor that gives the land lubber good birding opportunities.
During summer, ten thousand tourists a day come to enjoy the plethora of seafood restaurants and shopping at the Embarcadero overlooking Morro Bay where fishing boats and yachts are moored. In the winter, there are great discounts on events and bargain lodging packages to be had at MorroBay.org.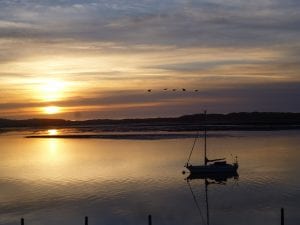 Paso Robles and San Luis Obispo vintners share their wares at several wine tasting rooms on the Embarcadero.
Stax, located at the north end of the dock where sea otters cluster with kits on their bellies, has live music and tasty seafood.
Chateau Margene has a more sophisticated ambiance with a more elite selection of wines. Host James poured a sparkling Pinot that was delightful, and then worked his way through a fruity chardonnay to a warming cabernet.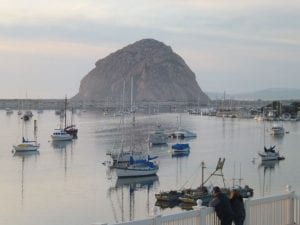 My room at the Inn at Morro Bay afforded an expansive view of the harbor with Morro Rock standing guard in a golden sunset.
After a day of birding in the area, I enjoyed watching hawks ride the thermals high above while I relaxed in the outdoor spa. It was a perfect end to a serene sojourn in Morro Bay.
(Note: Post photos courtesy of Central Coast Outdoors.)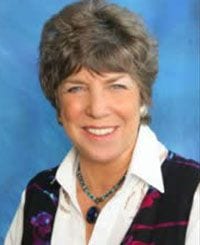 Linda Ballou says her mission is to experience as many beautiful places on our planet as she can, before they are no more. "Travel tales relating my experiences while kayaking, horseback riding, sailing, birding and hiking about the globe have appeared in numerous national magazines.
I had a great deal of fun collecting travel stories, and profiles of people I have met in "naturally high places" for my book, Lost Angel Walkabout-One Traveler's Tales, while my latest book, The Cowgirl Who Jumped Over the Moon, deals with horses, World Cup racing, and the beauty of California's High Sierras.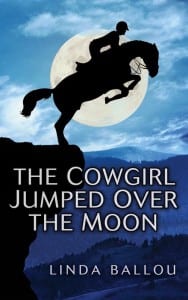 For a complete bio as well as published on-line clips with photos go to my website LindaBallouAuthor.com. Your reward, aside from learning about me and my work, will be to discover the secret to youth! Follow my blog or friend me on Facebook to keep up with my latest adventures."