Making Tracks with New England Hiking Holidays.
Making Tracks with New England Hiking Holidays
By Linda Ballou
NABBW's Adventure Travel Associate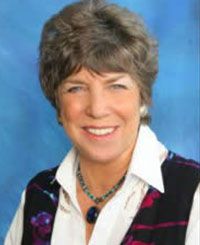 Several years I ago I hiked in the White Mountains with New England Hiking Holidays. In my article "Peak Experience," I detail what an exquisite experience it was to hike in the buttery glow of the autumn sun beneath a canopy of tangelo leaves.
Graham, our lead trip guide, told me that the Columbia River Gorge hike was his favorite offering of NEHH because of the dramatic cluster of waterfalls, scent of pine-sheathed mountains, and meadows choked with wildflowers. This Image never left me, so I am thrilled to be joining NEHH once again for their outing in Oregon.
Clare Grabher and her husband Kurt, owners and operators of NEHH, make it possible for the average outdoor enthusiastic to experience the wonders of nature by day and the comforts of posh inns offering fine cuisine by night. They run hiking tours in North America, Hawai'i, Italy, the Swiss Alps, and England, as well as historic walks in Spain.
I wanted to know more about what goes into creating these top-tier trips around the globe, so I asked Clare a few questions, which I\'m sharing with you, here: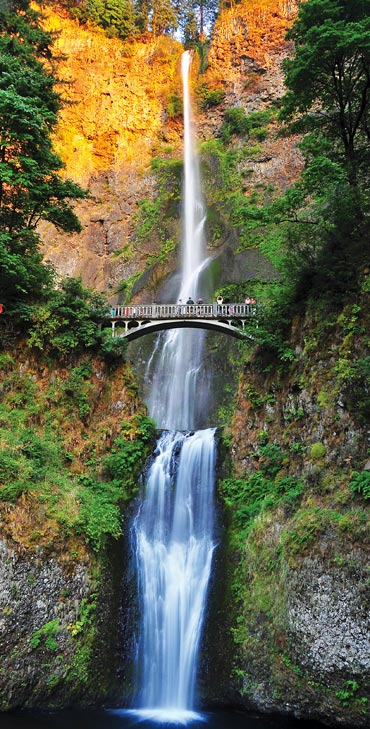 LB: What got you started in this career? Was there a pivotal event in your life that brought you to being an outfitter?
CG: Growing up in England, I always loved to hike. My mother was a member of "The Ramblers Association" after World War II! She was a passionate hiker. After a career on the professional tennis circuit, I moved to the U.S. where I hiked in just about every state except Alaska. In 1985, I was looking for a way to transition from a tennis career to a new life, and decided to start a business offering country inn guided hiking. Over the past thirty years our business, headquartered in Conway, New Hampshire, has grown to include hikes all over the U.S. and abroad.
LB: What is your background? Education? Special training?
CG: While I am an enthusiastic and mostly self-taught amateur naturalist, many of our guides do have degrees in ecology and other outdoor related areas, and many worked for the forest service prior to guiding with us. All our guides are very knowledgeable in terms of flora, fauna, and history of the areas that we hike.
LB: Do you have any medical training?
CG: All our guides have CPR and first aid, and many have wilderness medicine, or SOLO training, and some are EMTs.
LB: What sets your company apart from others with similar offerings?
CG: Our company has a very personal touch. Our guides have worked with us for many years (Brenda Donnelly is in her 25th year with us), and many of our hikers feel as if it is almost a big family. We have a very large repeat business and people return year after year to try new offerings! With a lower overhead than some of the larger companies, we are able to offer very high-quality trips at more affordable rates than some of our competitors.
CG: We are a small company. There are just a few of us that run the office (myself included), so we are able to be intimately familiar with all our trips. We have around 20 guides that work for us.
LB: How many trips a year do you run?
CG: We schedule about 40 trips a year in the U.S. and Europe, and then generally run 5 to 10 "custom" tours for groups of friends or family groups. In the past, we have run trips for alumni organizations as well as organizations such as The Smithsonian.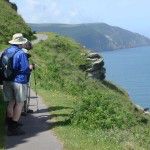 LB: Which trip is your favorite and why?
CG: My personal favorite is the Devon Coast in England. The rocky coastline and the gorgeous sandy beaches are quite spectacular and the villages and towns are just filled with charm and history. The coast path hugs the entire coastline with villages, pubs, and castles dotted along the route. Throw in a day of historic Dartmoor and it really is an excellent trip!
LB: Do you have a typical guest profile?
CG: Our guests are a mix of singles, couples, and some families from all walks of life across the U.S. and Canada. The age range is very varied but most of our travelers are in their 40s – 70s. We get quite a few Europeans and Australians, especially for the autumn colors in New England.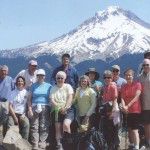 LB: What level of fitness is required for your trips?
CG: We always have two guides per trip to accommodate both slower and faster walkers and to appeal to the casual but enthusiastic walker as well as the experienced hiker. Our groups are small and personal (around 16 people per trip) and our experienced guides are always eager to share their love and knowledge of the natural world.
CG: Graham, your guide for the Oregon trip, is based in New Hampshire and guides many of our tours. He has been with us for 15 years. Carl Bois has been based nearby in Corvallis for many years and has been an outdoor education/trip leader there in many different capacities.
LB: In what ways do you take steps to protect the environment?
CG: We always follow "leave no trace" policies, and we try to educate our hikers on good environmental practices. We go over all these practices the first evening of the trip.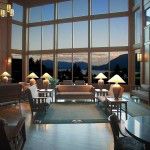 In my article "Not All Outfitters are Created Equal," I outlined what you should expect from a good outfitter. Clare answered all my questions correctly. There is no doubt in my mind that everything will come off without a hitch on my coming Columbia Gorge/Mt. Hood adventure. I look forward to re-uniting with guide Graham. I'm beginning to feel like I am part of the NEHH family. The only problem now is that I won't rest until I get to Devon. If it is Clare's favorite, it must be brilliant!
As I write this post, there are a few spaces left in the June hikes into the Columbia River Gorge/Mt. Hood region.
Go to www.nehikingholidays.com for details on this and their other offerings.
E-Mail: nehh@aol.com or call 1-800-869-949