Kathy Marris Sheds Light on 'Down Under' Adventure Travel
By Linda Ballou NABBW's Adventure Travel Associate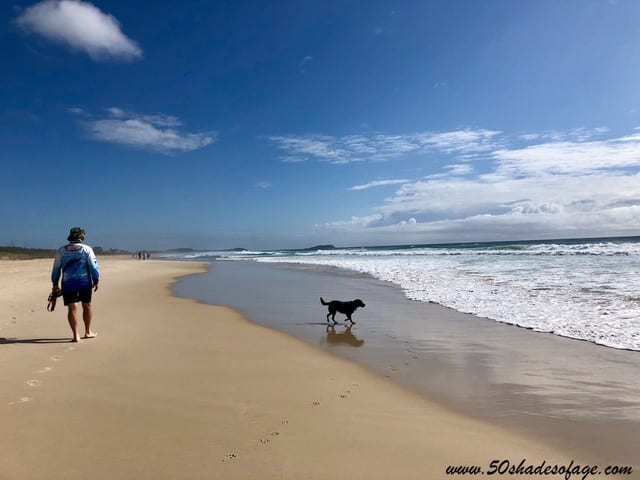 Kathy Marris is my counterpart 'Down Under.' She is the author of 50 Shades of Age, a lighthearted collection of stories on being 50 something.  A top blogger for the mature travelers she shares insider tips for travelers in OZ, and favorite holiday spots in striking distance – like Bali.
Australia is on my radar for 2020, so she seemed a perfect source for tips to make my trip more meaningful and less hectic. So, many tour companies have you spending a lot of time in airports zipping around a large country with extremely diverse eco-systems.
I asked Kathy questions that will help me streamline my trip and avoid tourist traps. I have been having a hard time deciding where I want to go because each region offers different experiences at different times of the year.
To help me get my bearings, where in Australia do you live in relation to Sydney?  
I live on the Far North Coast of New South Wales in a little coastal town called Kingscliff which is 815 kilometres north of Sydney. It is around 8-9 hours drive or 1.5 hours by plane.
Which part of Australia would you suggest for the first time visitor?
Like your country, the United States, Australia is a vast country and is completely different from north to south and east to west. Most tourists coming to Australia tend to visit the East Coast of Australia, taking in the cities of Melbourne, Sydney, Gold Coast/Brisbane and the Far North of Queensland – Cairns/Port Douglas.
The East Coast is the most populous part of Australia and the cities are diverse from the south to the north, with easy flying distances between them.
What is your favorite region and why?
I may be a little biased, but I love the region where I live now on the Far North Coast of New South Wales. The beaches here are beautiful, very pristine and relatively uncrowded.
The region surrounding the Tweed Coast is aptly named the Green Cauldron because there are mountains, rainforests, volcanic rich soil that is perfect for farming all types of produce, particularly bananas, sugar cane and fruit and vegetables.
What is the best time of year to explore your favorite region?
Summers can hot and humid in this part of Australia, winters are mild but can get cool, so I would recommend visiting in either Autumn or Spring. – October/November or March/April.
What are important sites not to be missed that most do?
In the southern state of Victoria, Melbourne is a very cosmopolitan city with great food, culture and beautiful gardens. A day trip to the Great Ocean Road, around and hour out of Melbourne is a definite must see.
Sydney in New South Wales, known as the Harbour City , is spectacular. The iconic Sydney Harbour Bridge, Sydney Opera House, a visit to Bondi Beach and catching a ferry across the harbor are the must sees.
The Gold Coast is renowned for having some of the most beautiful surf beaches in Australia with mild year round temperatures and heaps of sunshine. It also has several Theme Parks like Sea World, Dreamworld, Movie World and Wet N' Wild. The lush green Gold Coast Hinterland is also incredible to visit on a day trip.
Brisbane, only a hour's drive north of the Gold Coast is also a magical city to visit with it's location on the Brisbane River than is fringed with beautiful parklands, cultural precinct and kilometres of cycling/walking paths.
Cairns located in the tropical Far North of Queensland is also an amazing city with the World Heritage Listed Daintree Forest situated to the north, the Great Barrier Reef, beautiful palm-fringed beaches and warm year round temperatures that enable you to swim and snorkel. Inland is the amazing Kuranda historic train and sky-rail set amongst lush tropical rainforests.
Uluru in Central Australia is also very popular with tourists, but you would need to fly out here as the distance is huge and there's little to see in the arid inland of Australia.
Go Way travel offers many different self-drive tours. Do you think a first time visitor should tackle driving in Australia? The distances seem vast.
Yes the distances are vast in Australia, but I always believe that driving holidays enable you to see so much more of the "real Australia", rather than just cities and touristy areas. Melbourne to Sydney is 878 kilometres so this can be accomplished in two days comfortably. Then it's a similar distance from Sydney to Gold Coast/Brisbane. Driving from Brisbane to Cairns in Far North Queensland, maybe a little ambitious. It really depends on how long you have.
Are there tour companies you recommend for the 50+ traveler?
Without doing some research, I don't really know of any tour companies in Australia. We have mainly spent our time holidaying in our country in our caravan (trailer).  I would maybe look at Intrepid Travel or Adventure Tours.
Have you been to the Port Douglas/Great Barrier Reef region? Are there tour companies there that you would recommend for that region?
Yes I've spent some time in this region and it's a must see. Once again I've never done an organized tour here, as we have always self-driven. There is a company called Experience Oz that do some great tours all over Australia so that may be a good place to start.
I was told November in Port Douglas is the wet season and unbearably hot. Is this true?
Yes the Far North of Australia is very hot, humid and wet in the summer months – December to March. I would avoid travelling at this time.
How do you feel about a side trip to Tasmania?
Tasmania is an amazing island! We have had several trips here touring around in a campervan (RV). However once again, you need at least a week to get around to see all the wonderful sights on this island.
Thank you Kathy for taking time to help me plan my trip. I think readers who contemplating a trip down under can benefit from reading your blog http://www.50shadesofage.com/


Linda Ballou is an adventure travel writer with a host of travel articles on her site www.LostAngelAdventures.com. You will also find information about her travel memoir, Lost Angel Walkabout-One Traveler's Tales from Alaska to New Zealand, and Lost Angel in Paradise where she shares her  favorite  hikes and day trips on the coast of California.
Subscribe to her blog www.LindaBallouTalkingtoYou.com to receive updates on her books, travel destinations and events.