Hot Tips for Savvy Travelers
By Linda Ballou NABBW's Adventure Travel Associate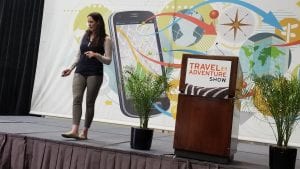 Each year I attend the Los Angeles Adventure Travel show to get news about travel trends.  Here is what is hot and what is not according to travel gurus like Rick Steves who spoke about broadening your global prospective through travel, and Pauline Frommer who shared lots of money saving tips.
All of the speakers at the event want you to use an anonymous computer when searching for flights, hotels, and car rentals. Sneaky algorithms pick up what you have searched in the past indicating what you are willing to spend. The computer selects choices that you have afforded in the past and does not show you less expensive options. To beat the system, clear your cookies and search history regularly, and use a friend's computer to search for your flights, lodging, and car rentals.
In terms of bargain travel destinations, Pauline said airfare to Tahiti is 30% cheaper this year because there is a price war going on with the airlines. She suggests staying at the outer Austral Islands where you can rent a cottage for $75-100. If you are in need of a tropical paradise and want to experience true Tahitian culture now is the time to go.
Domestically, she likes the Olympic National Park in the state of Washington because it is 95% roadless wilderness without heavy tourist traffic. She likes staying in Squamish, a charming provincial town in nearby British Columbia.
For independent travelers, Tours by Locals is a wonderful resource. You can find a local guide in the region you are exploring specializing in your area of interest. There are 3.457 guides in 156 countries on this site with reviews online to help you choose the right one for you.
Thanks to the late, great Anthony Bourdain, many tour companies are offering foodie tours, or adding a food element to their other attractions.  Upon request, Tours by Locals can provide local specialties made with farm fresh ingredients. AirBnb.com/experiences is also chiming in on this trend. Foodietrip.com is another good source for a vacation focused on what's for dinner.
Many travelers are opting for hostels, bed and breakfasts, and accommodations on Airbnb because they are homey and less pricy than hotels.
Hostels are not just for backpackers. Many of them have full amenities and complete privacy for guests.  All of these choices however often have a non-refundable policy, so it is important that you get travel insurance when you use them.
Even when traveling domestically, you should have medical emergency evacuation insurance. I learned this the hard way when I injured myself on horse pack trip into the High Sierras and had to be air-lifted out of our camp.
AIG's Travel Guard is the only insurance company I am aware of that allows you to purchase medical emergency evacuation coverage without buying a package that covers flights, baggage loss, etc.  You can compare the different insurance packages offered by numerous companies at InsureMyTripcom.
Autoslash.com is highly recommended for car rentals. Even after you make your reservations they will apply any discounts offered between the time you book and the time you pick up your car.
Pauline likes Booking.com for lodging, TourRadar.com and StrideTravel.com for finding tours.
There are tons of travel tips in the Frommer's Budget Travel Guides.
Get APP Happy before you go:
I like Currency Plus which shows me in big numbers the exchange rate and is very easy to use.
Groupon offers deals around the globe. Plug in the location where you will be before you go and they will send you discounted options at your destination.
Tripit is a good one for organizing your itinerary and having everything handy on your phone.
For tips on how to save a bucks, Russell Hanon has created Stop Dreaming Start Traveling: The Ultimate Guide to Traveling More and Spending Less. This book was published in 2015, but it is still relevant and chock full of tricks to save travel dollars.
My Personal tip:
Avoid Roaming Charges.When you travel go to your settings and turn off data usage and put your phone on airplane mode for the duration of your trip. When you get to a hotel, or coffee shop with wifi sign on using their password. Now you can let everyone at home know you are doing fine. This will avoid costly roaming charges that can rack up if you keep data usage active during your trip. You will still be able take pictures and videos to share when you get to a free wifi.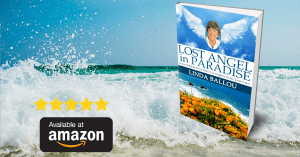 Linda Ballou is an adventure travel writer with a host of travel articles on her site www.LostAngelAdventures.com. You will also find information about her travel memoir, Lost Angel Walkabout-One Traveler's Tales from Alaska to New Zealand, and Lost Angel in Paradise where she shares her  favorite  hikes and day trips on the coast of California.
Subscribe to her blog www.LindaBallouTalkingtoYou.com to receive updates on her books, travel destinations and events.