Heading to Hawai'i? Linda Ballou Shares How to Do Maui's Hana Highway Her Way
By Linda Ballou, NABBW's Adventure Travel Associate
Each day, thousands traverse the narrow road that hugs the coast of Southeast Maui to the village of Hana, one of last remnants of old Hawai'i.
It is a miracle that the over fifty one-lane bridges, many of which are over a hundred years old, don't collapse beneath the steady stream of cars. Drivers are rubber necking to see the most beautiful waterfall, and angling to find a pullout near unmarked trailheads to take a closer look.
Still, chaos can be avoided and you can enjoy a tranquil, romantic journey into this lush, unspoiled region if you do the Hana Highway my way.
Make arrangements to spend at least two nights in Hana, rather than rushing in and out in one day to the Seven Sacred Pools aka O'hi'o Gulch. This gives you time to explore and make stops along the way.
Fuel up at trendy Pa'ia, the gateway to Hana, where there are several good eateries. While you are there, stop at the Mana Food Store to pick up a few supplies for picnic lunches. There are just a few eateries in Hana. Leave at about noon giving the rest of the travelers a head start.
Stop at the Garden of Eden about halfway into the drive. There you will find miles of manicured lanes winding through an incredible array of tropical plants shaded by the canopy of towering mango, banyan, and enormous fanning palms.
Viewing platforms framed in luxuriant foliage overlook a vast blue expanse of the Pacific and stunning Puohokamoa Falls.
Stroll through the garden in reflective solitude. When you leave the Garden of Eden, keep an eye out for the trailhead just past the eleven mile marker to the pool beneath Upper Puohokamoa Falls where you can take a private dip.
There are only a few places to stay in Hana: the exclusive Hana Maui Resort a smattering of bed and breakfasts, or setting up camp at Wai'anapanapa – Black Sand Beach.
The beach park is riddled with sacred sites, burial grounds, and caves that are easily accessed on a coastal trail that wraps the bay. Ferocious bearded monsters pummeling the black lava into sand make a dramatic show, but don't make for safe swimming
I rose early on my visit and drove through sparkling, dew-laden meadows stopping to take in splendid Wai-lua Falls along the way to Haleakala National Park.
I was eager to hike the Pipiwai Trail, a root and rock strewn path that traces a death-defying gorge up to the Waimoku Falls, a 400-foot plunge down a sheer rock face.
A portion of the track took me though a towering wind-whipped bamboo forest that felt like being inside a giant wind chime.
By the time I got back to park headquarters the tourist vans had arrived. I shared the famous Seven Sacred Pools with other travelers from around the globe. Bracing, sweet water spilling over rock ledges to form three large pools did not disappoint.
The rest of day was spent lollygagging at a scalloped-shaped cove where gentle, turquoise waves curl onto a powdery sand shore. Hamoa Beach, by far the best swimming beach at this end of the world, is not to be missed.
A rutted road leads to the site of Pi'ilanihale, the largest remaining heiau (Hawaiian temple of worship) in all of Polynesia. You must cross over a creek to get to the entrance of Kahuna Gardens where the heiau was hidden from sight until 1999.
It is hard to believe that this immense structure spanning three acres built of basalt rocks could be so overgrown with jungle foliage that it would go unnoticed until modern times.
The side facing the sea rises steeply in five stepped terraces. Construction of the main terrace dates back to the 14th century when remote, water-rich Hana was heavily populated by Hawaiians.
Your options are limited, but for a splurge, rent one of the bungalows at Hana Maui Resort. There are also a few Airbnb and bed-and-breakfast establishments sprinkled around town.
Bring your own tent? Drive back to Waianapanapa State Park (at the end of Waianapanapa Road off Hana Highway) and set up camp (permit required) just steps from the gorgeous black sand beach.
You won't want to miss Kahanu Garden (650 Ulaino Road), which is the home of Pi'ilanihale Heiau. You can conveniently book tours –  both self-guided and guided  – online, via the link here in this box.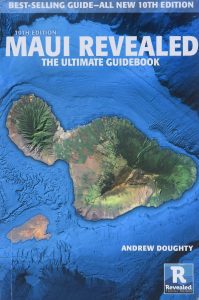 One last note: Be sure to take Maui Revealed by Andrew Doughty with you. It is an excellent guide to the Hana Highway experience.
Unless otherwise noted, all photos are courtesy of author Linda Ballou. She is an adventure travel writer with a host of travel articles on her site www.LostAngelAdventures.com. You will also find information about her travel memoir, Lost Angel Walkabout-One Traveler's Tales from Alaska to New Zealand, and Lost Angel in Paradise where she shares her  favorite  hikes and day trips on the coast of California.