Going Local on Maui
By Linda Ballou
NABBW's Adventure Travel Associate  
Would you like to spend a week in Hawaii without having to cash in your 401K? Resorts with high-end amenities are lovely to stay in, but, for many, too costly to call home for a week.
Air B&B offers rooms for rent from local hosts at very reasonable prices all over the world. I chose the Bicycle Inn in Paia, a walkable little town with several good eateries and fun shops close to the Kahului Airport on Maui.
My digs were the master bed with a private bath in a three bedroom house with all the comforts of home. Two fantastic beaches with life guards and long stretches of white sand to stroll are close by, as well as access to the beach shared by the famous Mama's Fish House. Strategically located in central Maui, Paia is a springboard to up-country explorations.
Plan to rent a car and enjoy a few day trips:
You won't want to miss Kihei and Makena.
But your trip to Wailuku, home to the sacred Iao Valley—and is gateway to the splendid drive on the coast-hugging Hana Highway is a must do.
My first stop in Paia was Mana Foods, featuring plentiful organic fruits and vegetables from local farms, and a deli counter with hot prepared dishes. I stocked up on breakfast treats, fruits, and local coffee to ensure a leisurely rise at the Inn and to reduce the number of costly meals out.
Kuau Store, just steps away from the Inn, carried selections of my favorite local food: poke—spicy chunks of raw tuna, fresh garden salads, and sandwiches perfect for a picnic.
I woke to the patter of a tropical shower, so headed up-country on scenic Hwy 398 to tiny Makawao where the rain subsided. There I visited Maui Hands, an art gallery displaying exquisite work of local artists, and several shops with tropical beach wear at bargain prices.
After taking in a generous fish filet taco at Polli's Mexican Restaurant, I headed for the highlands along Hwy 377 that sport lush, green pastures spiked with yellow gorse and misty views reminiscent of Ireland. I made a happy stop at the Kula Lodge with its luscious garden overlooking West Maui. With its little round cupolas for seating, jutting between earth and sky, it's perfect for that special lunch to share with a friend.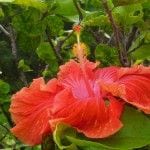 A bit further up the old Haleakala Road (Hwy 377) is Kula Botanical Garden. It is not huge, but it is chock full of delightful displays of tropical foliage lining manicured paths. Mist-loving plants on the flank of Haleakala Crater bloom in abundance, including giant protea, poinsettia, hibiscus, bromeliads, and more. ($10 admission.)
Makena Beach is a mile-long crescent of deep sand licked by turquoise curls of foamy white waves. It is one of the most beautiful (and swimmable) beaches in the Islands. About a forty-minute drive from Paia, it is well worth the effort. I felt the stress of the journey melt away as I dallied in the delicious, healing waters.
Kihei, off the Piilani Hwy on the way to Makena, is laced with welcoming green beach parks shaded by banyan trees with surf tame enough for toddlers. There are a host of casual eateries lining its shoreline drive. Kihei is a popular snorkel spot dotted with numerous snorkel gear shops ready to provide you with gear for the day. An open air market boasts bargain prices on T-shirts and handmade items to take home to friends.
Kona Winds blew me off of blustery Paia Bay, a favorite for kite surfers, and forced me to venture to the sheltered Iao Valley, once home to Kahekili, the arch rival of Kamehameha the Great. When I arrived, the iconic Iao Needle, normally obscured by thick clouds, flashed a brilliant green spotlighted by afternoon sun.
The sheer 3,000-foot pali that protects the valley is sheathed in thick blue-green verdure and is impossible to climb. Water whispers sweetly through taro ponds edged with rust-red ti leaves creating an Eden-like setting for a Hawaiian village. Four streams merge here to form the Wailuku River that was clogged with bodies and ran red when Kamehameha's warriors finally did conquer the Maui forces in 1790 after many failed attempts.
The road to Hana is a heart-catching experience that should not be missed. It is detailed in my piece "Doing the Hana Highway My Way."  You may be frustrated by rubber necking tourists, but if you slow down and take your time to explore the many sites along the way to Hana, you won't be disappointed.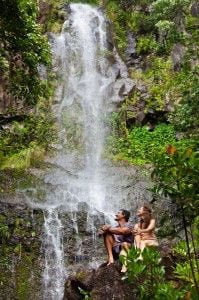 I ended each day in Paia at Baldwin Beach, a favorite of local families. At both ends of the mile-long crescent there are "baby beaches" safe for swimming beside the energetic surf. Every Friday night local conga drummers congregate at sunset and add a jungle beat as you gaze upon vivid skies.
My favorite evening was spent at open air Café Des Amis in Paia, sweetened by a sultry songstress serenading us with South American tunes. The spicy seafood stew made from local catch was divine and within reach of this budget-minded solo traveler.
Take advantage of your frequent flyers to get a direct flight to Kahului Airport from Los Angeles or San Francisco. My flight was half full on both flights to and from Maui leaving plenty of room to stretch out on the five-hour flight. Come home rested with money left over for more adventures. The Islands are waiting for you!
Note: In the interest of full disclosure I should mention that there is road noise at the Bicycle Inn from the nearby Hana Highway. It does, however, subside around 9:00 PM and begin again around 6:00 AM.
Linda Ballou says her mission is to experience as many beautiful places on our planet as she can, before they are no more. "Travel tales relating my experiences while kayaking, horseback riding, sailing, birding and hiking about the globe have appeared in numerous national magazines. I had a great deal of fun collecting travel stories, and profiles of people I have met in "naturally high places" for my newest book, Lost Angel Walkabout-One Traveler's Tales. For a complete bio as well as published on-line clips with photos go to my website www.LindaBallouAuthor.com. Your reward, aside from learning about me and my work, will be to discover the secret to youth! Follow my blog or friend me on Facebook to keep up with my latest adventures."
Photo credits:
Opening beach photo: courtesy
Fodor's Travel
, (c) Jsanchez_bcn Dreamstime.com Photos of Makena Beach, Paia Town shops and Hana Highway Waterfall courtesy
Tor Johnson
Photos of Iao Needle Valley and the Kulu Gardens courtesy of the author  
For More Information:
Maui Visitors Bureau
Budget Rent a Car
Air B&B