Getting the Shot with Greg Vaughn — Extraordinary Landscape and Nature Photographer Who\'s \'Written the Book\' on Shooting the Natural Beauty of Oregon and Washington
Getting the Shot with Greg Vaughn — Extraordinary Landscape and Nature Photographer Who\'s \'Written the Book\' on Shooting the Natural Beauty of Oregon and Washington
By Linda Ballou
NABBW's Adventure Travel Associate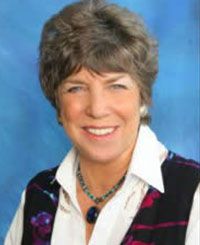 As an adventure travel writer it is imperative that I take good landscape, action and nature shots while I am enjoying a fantastic outdoor holiday. I am the first to admit that I am a better writer than I am photographer.
Getting good photographs takes, time, planning, know-how, the right equipment and a big slice of luck. Greg Vaughn helps make the goal of getting great shots achievable for amateurs, and pros alike, in his guide books for Oregon and Washington.
In his books he not only gives photography tips, he takes you on the roads and trails to vantage points that will give you the best odds of getting that National Geographic  moment. He has broken the states down into regions and gives detailed information on each with stunning color images to complement the discussion.
I am heading to the Columbia Gorge/Mt. Hood Region with New England Hiking Holidays, and then heading off for a week on my own on the Northern Coast of Oregon.  While on the coast I will have time to take life slower and work on my photography skills. I decided to ask Greg a few pertinent questions before arriving to make the most of my visit.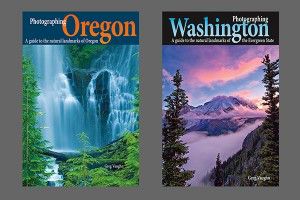 LB: Which region detailed in your Photographing Oregon guide book is your favorite?
GV:   That's kind of like asking which of your children you like best.
I suppose it depends on the time of year. Starting in March, I like to escape to the southeast part of the state for the drier weather and big skies of the sagebrush desert.
April and May, I want to be in the Columbia River Gorge for waterfalls and wildflowers.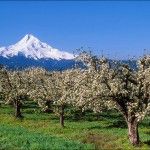 Summers in the Pacific Northwest are absolutely gorgeous, and I spend as much time as possible camping and hiking (and maybe a little fishing) in the Cascade Mountains.
Autumn means following the fall color along rivers in the lower elevations of the Cascades and in the Gorge. The coast is the place to be in winter, both for photography and for just hanging out with family and friends while storm watching from a cozy beachfront house or hotel.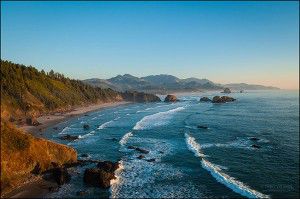 LB: Do you have a favorite photo op in Oregon that I should not miss?
GV:    While you're on the northern Oregon coast, be sure to visit Ecola State Park near Cannon Beach and photograph the view from the trail to Ecola Point that sweeps south along Crescent Beach to Cannon Beach and all the way to Hug Point.
Golden light on the coast just before sunset is magic, but this location can also be very rewarding at sunrise.
Quite likely you'll also see the resident herd of Roosevelt Elk that frequently grazes in the field near the parking area.
LB: If I only have one week to explore which region would you tell me to head to first?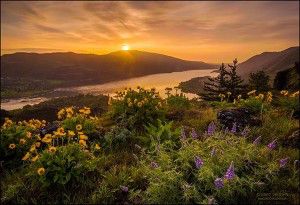 GV: In one week, you could do a loop tour that would include a great sampling of the wonders of Oregon. From Portland, head up the Columbia River Gorge, then south through Hood River Valley to Timberline on Mount Hood.
Back towards Portland on US Highway 26, and out to the coast via OR Highway 18. North along the coast on US 101, with a side trip on the Three Capes Scenic Route near Tillamook.
Complete the loop with the drive from Astoria to Portland on US 30 along the Columbia River. First day or last should be devoted to Portland itself, a beautiful and delightful city.
LB: Which trail in the Columbia Gorge region do you consider the most scenic and photo worthy?
GV:   Eagle Creek Trail is just about everyone's favorite, and with good cause. The relatively easy hike takes you to spectacular waterfalls in a beautiful old-growth forest, complimented by wildflowers in late spring and early summer or fall color courtesy of big leaf maple trees in autumn.
LB: Where will your next guide book take us?
GV:  I don't currently have any more guidebooks in the works, although my publisher, PhotoTripUSA, would like to see me do a photo guide to Hawaii to round out the series.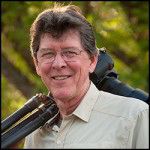 Greg has a very helpful chart in the back of each of his books rating each of the locations for scenic value, photographic interest and difficulty of access.
Whether you are a point and shooter or a full-fledged camera junkie Greg's books are like having a good, knowledgeable friend leading the way to the best vantage points for great pictures.
With Greg's help, surely I will come away from Oregon a better photographer than when I arrived.
Meanwhile, here\'s a link to Greg Vaughn\'s website. Be sure to take a look. You\'ll marvel at his breathtaking shots, several of which are featured in this post! And don\'t miss Greg\'s blog about travel and nature photography, Wandersandwonders.com. More great shots there, plus great commentary! If you\'re an aspiring nature photographer, you\'ll want to sign up for the RSS feed, or subscribe via email. That way you won\'t miss any future posts.
Linda Ballou says her mission is to experience as many beautiful places on our planet as she can, before they are no more. "Travel tales relating my experiences while kayaking, horseback riding, sailing, birding and hiking about the globe have appeared in numerous national magazines. I had a great deal of fun collecting travel stories, and profiles of people I have met in "naturally high places" for my newest book, Lost Angel Walkabout-One Traveler's Tales. For a complete bio as well as published on-line clips with photos go to my website www.LindaBallouAuthor.com. Your reward, aside from learning about me and my work, will be to discover the secret to youth! Follow my blog to keep up with my latest adventures.