Thrifting For Savvy Shoppers
Thrifting For Savvy Shoppers
By Barb Tobias
NABBW's Thrifting Expert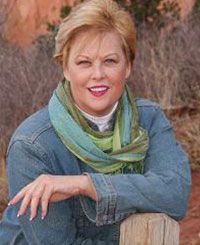 Most of us have less cash to burn these days, so buying other folks castoffs is a great way to save a buck … particularly when searching for short-term items.
The Internet, specialty shops, bookstores, and going out of business sales carry drastically reduced items that are perfectly good for occasional needs or events.
Moms-To-Be
While some pregnant celebrities bare their bellies for posterity, the majority of expectant mothers are concerned with being covered and comfortable. Most can squeak by for three or four months before their tightening waistbands send them scurrying to the maternity shops. However, it\'s tough justifying a new Wardrobe for a measly five months.
Brand names that cover the "bump" such as Juicy Maternity and Pea in the Pod can be found on online sites like HandMeDowns.com where, in addition to buying and selling, bartering is lively. Why not consider a night out with the gals and swap clothes with other moms or go online to nifty maternity sites like SwapBabyBoods.com.
Books
The cost of college textbooks is outrageous. While attending college my summer waitressing stash went toward tuition and rent, while my dishwashing efforts paid for my textbooks. According to CollegeBoard.com, while the cost of course books can run into the thousands, the national average tops out at $1,137 yearly.
However, shrewd students have learned to take the bite out of this costly treadmill by buying required readings secondhand, then selling them at semester end. Websites like Swap.com and PaperBackSwap.com operate a thriving online business where customers can list, share and swap from home.
Biggies like Barnes & Noble and Amazon carry recycled hard and soft versions in an effort to keep up with the trendy mom and pop resellers.
Furnishings
I am a picker, spending blissful weekends poking through garage sales, flea markets and thrift stores. My successful searching has resulted in a home decorated entirely with thrift. Granted, it took years, but my house was transformed into a remarkable dwelling, filled with elegant, ecceletic furnishings; a comfortable combination of styles, periods, textures and collectibles from places I have yet to visit.
With so many great alternatives available, why pay full price when you can create a home worthy of a magazine spread for so much less?
My antennas still go up when family or friends decide to move or downsize, since most would rather give away perfectly good things than pay movers to ship them across town or country.
A few years back I walked into what I thought was a garage sale. It turned out I had invaded a couple\'s Moving day. After a few apologies and inquiries, I ended up carting home a perfectly charming armoire for my granddaughter\'s room.
Because they couldn\'t fit it into their moving van and intended to leave it behind, the couple apologetically asked if $10.00 was too much to pay. So happy were they to be rid of the piece, they helped load it onto my SUV, tied it down and thanked me profusely. Recently my son resold the same item for $250.00 on Craigslist.
Fancy Formal Wear
Red carpet affairs are big business for designers who, according to style expert Lindsay Albanese, have their dresses, shoes, handbags and jewels returned after big events. She says, "Celebrities usually don\'t pay anything out-of-pocket for their outfit, unless it\'s a pair of shoes or something they are dying to keep."
So, maybe Brad Pitt won\'t be attached to your arm at the Academy Awards next year, but you can still be red-carpet ready for your events without draining you bank account.
How so? Buy thrift. Consignment shops and specialty thrift stores abound with gently used formal wear.
Rethink vintage. Uniquely distinctive, previously owned outfits allow the most discriminating trendsetters to flaunt their frocks at a fraction of their original cost.
Then again, why not rent? RentTheRunway.com carries Nichole Miller gowns, Judith Leibler purses and Badgley Mischka jewelry that can be yours for up to eight days including backup sizes and pre-labeled return packaging.
Brides on a budget, and their attendants, should check out the amazing frocks on the virtual racks of RecycledBride.com.
Jewelry
Elizabeth Taylor owned the Hope Diamond, Marilyn Monroe sang Diamonds are a Girl\'s Best Friend and Audrey Hepburn sighed at the baubles displayed at Tiffany\'s, but before you crack into your wall safe to buy more jewelry, consider a cheaper way to flaunt your bling: pawn shops, estate sales and auctions.
Trust me, not all resale shelves are filled with broken equipment and jewels of questionable origin. Those coveted trinkets – especially diamonds – have incredibly low resale value.
Pets
Although Westminster just crowned Palacegarden Malachy, a purebred Pekingese, "Best in Show" last month, you might think of giving a homeless dog or cat a second chance by choosing your next furry friend from a local animal shelter.
Pets might not be at the top of your list when thinking about second-chance finds, but according to the ASPCA, far too many of the 3 to 4 million animals that find their ways into shelters are euthanized. In fact, spending hundreds of dollars on purebred animals seems inhumane when one considers that the National Humane Societies are responsible for 6-8 million dogs and cats each year in need of good homes.
Denver\'s Morris Animal Foundation, an international organization for animal health, does not handle pet adoptions, but their efforts in fighting for the wellbeing of our animal companions is noteworthy.
Barb Tobias is a professional speaker and inspiring coach who renovates lives, homes and wardrobes by sticking her curious little nose into other people's "thrifty business." After a lifetime of transforming trash into treasure, this savvy mistress of thrift shares her secrets to finding deals, repurposing before tossing, reconstructing the tattered and renewing things others view as passé in her recent release…Tossed & Found; Where Frugal is Chic. Her "tell all" book is not simply a journey of personal transformation, but teaches a newly frugal nation how to purchase, purge and profit from thrift.