Fifteen Reasons to Fall in Love with Thrift… Cheap Doesn't Need to be Chintzy
Fifteen Reasons to Fall in Love with Thrift… Cheap Doesn't Need to be Chintzy
By Barb Tobias
NABBW's Thrifting Expert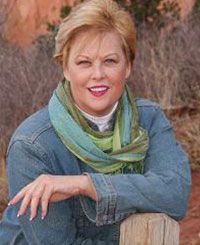 I've been gleefully shopping thrift for over 30 years.  But, I've been wearing thrift since I grew from toddler to teen … from the proverbial hand-me-downs to the secondhand gown my mother bought me when I was voted Homecoming Queen.  Needless to say, having to live on the cheap for so long, I abhorred anything thrifty during my formative years.
After I was married and on the rebound from my frugal years, I only bought new; determined not to live a life filled with someone else's cast-offs.
Today I can honestly say that my beautifully decorated home and fabulous Wardrobe have cost me nothing. I buy exclusively from the remarkable thrift venues that pepper the nation; garage sales, flea markets, yard sales, consignment shops, auctions, tag sales, antique malls and estate sales!
Furthermore, I hold a garage sale … every year.  Actually, I call them Diva Sales because they are stocked with all the fabulous things I let go of after each season. The yearly purging of my home allows an array of new-to-me items back into my home and a fresh wardrobe every year.
Coming full circle, there are layers of reasons to love and live frugally.  I buy only thrift.  Here are 15 of my best and brightest motivations:
No more sticker shock!
Best bargain bragging rights
Guilt-free shopping . . . the price is always right.
Decorate for FREE by purging yearly … Thar's Gold in Them Thar Cupboards!
Incentive to Clutter-bust your home – Reduce, Reuse, and Redo
Create magazine spread homes using trendy thrift
Donate to feel GREEN and great!
Capture items not normally affordable
Find once-in-a-lifetime treasures
Power dress for pennies
Find Red-Carpet fashions  . . . cheap
Have fun while saving a ton
Unique finds that express your individuality
Build personal wealth by dressing and decorating for free
Igniting the creativity within; repurposing at its best
Barb Tobias, author, speaker, thrift specialist, and frugal decorating consultant is a hopeless Thrift-a-holic.

Lauded as the frugally chic purveyor of an environmentally conscious nation, Barb\' s release, Tossed & Found, gives the reader a birds-eye-view of the riches stashed within the dimly lit coffers of the thrift world.

Barb Tobias is available for speaking engagements, workshops, guest appearances and media events. 1-877-711-DIVA (3482). Learn more about Barb on her website, Thrift Talk Diva.