Come on … Celebrities Holding Garage Sales?
Come on … Celebrities Holding Garage Sales?
By Barb Tobias
NABBW's Thrifting Expert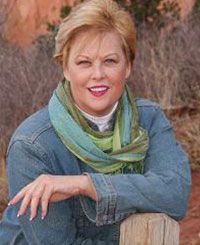 What do Barb Tobias (The "Thrift Talk" Diva), Tori Spelling and Carol Burnett have in common?
We all have yard sales! Yes, it is true. Six degrees of separation be damned! I\'m in good stead.
I was stunned to learn, after reading numerous reports on People.com, Omg.com, and Thefrisky.com, that real celebrities were raising serious money through holding all types of sales; garage sales, tag sales, yard sales, porch sales, divorce sales, downsizing sales, Moving sales…and are now moving into the corridors of high-rise apartment buildings where city dwellers are holding "lobby sales". And, here I thought that this Thrift Talking Diva had the corner on making good money at my fancy Diva Sales.
Yikes! Little did I know that I was going up against the likes of Tori Spelling, Scott Baio, Teri Hatcher, and Pamela Anderson. I\'d been snookered and outclassed. And, I would have to imagine that my stuff was probably pretty paltry in comparison to their stuff.
Sure, I\'ve yakked for years about the benefits of holding tag sales and purging homes of unwanted and unloved things. And, I\'m still a strong advocate for the yearly cleanse (because it\'s the only cleanse that\'s capable of making a fast buck). But, I was still having trouble wrapping my arms around celebrities hawking their junk … like the rest of us.
I kept asking myself, "Why would outrageously wealthy superstars hold yard sales?" So, I started doing a little celebrity snooping, and, voila, Diva Detective was born. True, most stars hold sales through auction houses, but a few, such as Tori Spelling, Scott Baio, Teri Hatcher, and Pamela Anderson actually worked their own sales, albeit with professional and agent assistance. Many of them do it for charity; however, Tori actually pocketed the cash.
Star Willie Aames sold off his belongings at his suburban Kansas City home. Apparently dozens showed up while Aames bargained with treasure-hunters and even signed autographs. Hundreds of people stood in line to snap up movie memorabilia, taxidermy, antiques, artwork, furniture, and even his piano. And, the shocker…his production crews were even there to film a television documentary.
A cable network recently shot a pilot for the project, titled "Celebrity Garage Sale," staring actress Illeana Douglas. Apparently the hook is that Douglas is on a mission to help her famous friends get rid of their unwanted junk by holding, you guessed it, a garage sale. They\'ve brought in Tom Arnold to mix it up because his garage sale is said to have raised $5,000 for Camp del Corazon, a summer camp for children with heart disease.
Scott Baio\'s sale raised funds as well as awareness for mandatory newborn screening in all fifty states after his daughter tested positive for GA1, a metabolic disorder. Fortunately, she is fine, after it was discovered that her results were a false positive.
Teri Hatcher raised $20,000 for her favorite charities through an invite-only, fifty-dollar entrance fee, yard sale and served Buttercream Cupcakes & Coffee to her customers!
And, Pamela Anderson was reported have sold one of her homes with all of the contents with the proceeds going to PETA.
Now here\'s one that shook the fibers of my "divaness". Supermodel Erin Wasson held a garage sale selling off pieces from her personal Wardrobe … the likes of Balenciaga and YSL. Now, rumor has it that these rags sold for under $100. Where was I when all this was happening? According to Erin she was attempting to "edit down my wardrobe and be very Japanese, where you have one rolling rack…I love the idea of being super edited." Awww…
So what\'s the difference between their yard sales and mine? So okay, the autograph signings are probably a draw. I\'ll give them that. And, maybe their furnishings are a tad more elegant. And then there are the gowns, and posters and the jewels. Hmmm…
Barb Tobias is a professional speaker and inspiring coach who renovates lives, homes and wardrobes by sticking her curious little nose into other people's "thrifty business." After a lifetime of transforming trash into treasure, this savvy mistress of thrift shares her secrets to finding deals, repurposing before tossing, reconstructing the tattered and renewing things others view as passé in her recent release…Tossed & Found; Where Frugal is Chic. Her "tell all" book is not simply a journey of personal transformation, but teaches a newly frugal nation how to purchase, purge and profit from thrift.