A Holiday Note from "The Diva"
A Holiday Note from "The Diva"
By Barb Tobias
NABBW's Thrifting Expert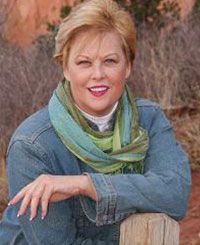 I become reflective with the turning of the leaves and the fast approach of the holidays. During this time I am reminded of the days and things and people that colored my 2011 canvas. It was an amazing, pigheaded and magical year. As this last month continues to wane, I look back on the year with a bit of reflection, much gratitude and the hope for a bright future.
Reflection. I reflect on what I have learned. Ah…so much. Yet, I still wonder why the lessons are so bumpy. Not that my awareness is limited … mind you. Ok, so I choose not to think that I might be a bit opaque… a little naive. Nevertheless, I question the number and duration of my trials. And, at my age! There should be an expiration date on learning lessons. I know, I know, it\'s all about the journey. Ok, so here\'s the deal… I\'m planning on arriving at some pretty major destinations in 2012!
Thanksgiving. Over the years I\'ve learned more about gratitude, and its power. I am thankful for so many things. As I continue to age, ever so gracefully, my appreciation is childlike and magical. The scent of a flower. The earthy smell of my beloved dogs. My husband, intently working, unaware of my fond gaze. I am fortified by the warmth of friendships, old and new, distant and near. I reflect on the love of my child, now a man, and my grandchildren who allow me to revisit motherhood…for a few stolen moments. I am newly appreciative of the drives into the mountains…ever changing, ever challenging. And, I am everlastingly thankful for my readers, fans and supporters. Thank…you.
Hope. I believe that the storms of our lives are fortuitously colored by the crystals of hope that divinely appear between the savage raindrops. Hope offers a rebirth of dreams, the promise of love, a new tomorrow, a healthier planet, and fresh beginnings.
Here\'s to hope this holiday season,
Barb Tobias
Barb Tobias is a professional speaker and inspiring coach who renovates lives, homes and wardrobes by sticking her curious little nose into other people's "thrifty business." After a lifetime of transforming trash into treasure, this savvy mistress of thrift shares her secrets to finding deals, repurposing before tossing, reconstructing the tattered and renewing things others view as passé in her recent release…Tossed & Found; Where Frugal is Chic. Her "tell all" book is not simply a journey of personal transformation, but teaches a newly frugal nation how to purchase, purge and profit from thrift.