Thrift Shops Champion Philanthropic Missions
By Barb Tobias
NABBW's Thrifting Expert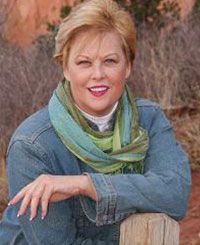 The philanthropic movements behind most thrift shops are not always in the forefront of most shoppers' minds as they enter resale establishments.
Like many, my early motivation for patronizing these thrifty haunts was purely for the thrill of the hunt and the joy of snatching up fabulous items for a fraction of what I would pay retail.
It wasn't until I began looking behind the scenes, that I realized that many thrift organizations support philanthropic causes ranging from crisis pregnancy centers to animal rescue.
They use their retail proceeds, in part, to help the poor, destitute, challenged, abused or dying.
Cruise over this list of known and not so known philanthropic projects behind these thrifty enterprises:
ReStore
There are 825 Habitat ReStores in the United States and Canada which have been operating for over 25 years.  Countless tons of textiles and materials have been diverted from our landfills by these outlets which provide an environmentally and socially responsible way to recycle goods.
The ReStores accept donations of new and gently-used home improvement goods, building materials and appliances, fixtures, furniture and some home accessories, then turn around and sell their inventory for a fraction of the retail price. Aiding in this gargantuan process is an all-volunteer staff that helps ensure that the stores' proceeds are used to support Habitat for Humanity…a mission to build homes, communities, and hope.
With a strong desire to merge human wellbeing with resale, the chain adopted the slogan; Good for the environment; good for your community.
ReStore locations near you can be found by visiting the Habitat for Humanity website, www.habitat.org.
St. Vincent de Paul
St. Vincent de Paul is a Catholic lay organization that promotes spiritual growth through person-to-person service to those in need. According to their website, www.svdpusa.org, their charitable efforts are three fold:
To hire and train unemployed people through their 501(c) 3 non-profit organization
To offer communities a network of St. Vincent de Paul thrift stores
To assure that 92 cents of every donated dollar goes to programs assisting the poor.
Amongst a variety of social services, these noteworthy programs are available to those in need:
Food and nutritional programs
Emergency financial and disaster relief
Rent/mortgage assistance
Shelters for the homeless or abused
Employment services and job training
Education programs (GED)
Youth and camp programs
The Salvation Army
Most of us recognize the women and men tolling their bells during the holidays. However, few know the history of the birth of this charitable Army.
Started as a ministerial quest by William and Catherine Booth of England, the pair walked the streets of London preaching the gospel of Jesus Christ to the poor, the homeless, the hungry, and the destitute. After setting up a tent in a Quaker graveyard to preach, Booth found instant success in converting thieves, prostitutes, gamblers, and drunkards to Christianity. Years later the Army moved into the United States, and eventually spread virally into every corner of the world.
In this new century, The Salvation Army continues to offer the needy basic necessities of life; food, shelter, and warmth while other divisions work to eradicate:
Disaster repercussions
Pornography
Homeless people
Missing persons
Human trafficking
Services for the elderly
Goodwill
Goodwill's vision is to afford every person the opportunity to achieve his or her fullest potential … a lofty goal that appears to be reachable considering their impressive track record.
According to their website, they served over 4.2 million people through their employment and training courses in 2011 and spent 82% of their total revenues supporting these programs.
With Over 2,650 retail stores and an online auction site, www.shopgoodwill.com, Goodwill generated $4.43 billion in revenues with a noteworthy $2.59 billion generated from the sales of their chain of thrift stores.
Arc Thirft Stores 
The Arc organization was founded to provide individual advocacy programs along with services and support for people with intellectual and developmental disabilities.
Many of the Arc chapters operate thrift stores, hold clothing drives, pick-up clothing or used furniture or have locations for drop-off of donated items to raise funds to further their mission.
Arc chapters vary which resources and support they offer, but their services often include early intervention, supported employment, job training, transition planning, respite care, supported living,  case management, medical and dental care and therapeutic services such as occupational and physical therapy, behavior management and speech therapy.
Their website, www.TheArc.org, offers further information on their national programs often funded by government grants and private foundations:
Autism NOW: The National Autism Resource and Information Center (autismnow.org)
School to Community Transition Initiative
National Council of Self Advocates
The Arc\'s National Sibling Council
Self-Advocates with FASD in Action (The SAFA Network)
Assistance League
The Assistance League and the Assistance League Thrift Stores are part of National Assistance League®.  Their website boasts of an all-volunteer organization with no paid executive director or management staff. Their 324 members have given over 38,000 hours of community service to local projects and 72% of their philanthropic budget is distributed to communities through ten charitable programs:
ALDO Bear – Distributes teddy bears to children in crisis.
Arts for Kids – Brings fine arts programs (music, dance and theater) to public school children.
Caps for Kids – volunteers create fanciful hats for children in hospitals
Denver Hospitality House – provides weekly events and activities for seniors
Assault Survivor Kits® – supplies clothing for sexual assault victims
Health Kits – toiletry items are provided by Operation School Bell
Operation School Bell® – schoolchildren in need (K-5) are provided with clothing
Scholarship – scholarships awarded to students at Community College of Denver, Community College of Aurora and Pickens Technical College
Hospital Equipment Lending Project (HELP)- Loans equipment for extended care patients
Serve Our Seniors – Assists seniors through the Assistance League Auxiliary Denver
Buffalo Exchange
Most thrift stores, even the small mom and pop varieties, embrace charitable leanings to some degree.  Some chose to support wildlife or companion animal concerns while others support veterans, poverty or work to eradicate abuse and neglect. The Buffalo Exchange is one such example.
According to founder Kirsten Block, the purpose of the Exchange is to lead the resale Fashion industry by providing a beneficial place for customers buy, sell and trade new and recycled clothing.
Philanthropically, the company took heart after learning that the EPA estimates that 13.1 million tons of textiles were generated in 2010, eventually finding their way to our landfills.  The Buffalo Exchange works to protect the environment by reusing and recycling clothing thus reducing negative environmental impact.
In addition, the company started Tokens for Bags®, which has generated over $445,500 for local nonprofit organizations and has saved 8.9 million plastic bags from being dumped since 1994. They have resolutely raised over $380,000 for environmental causes through their Dollar Day Sales on Earth Day.  And, on the animal welfare side, their Coats for Cubs annual used fur drives have provided bedding and comfort to hundreds of orphaned and injured wildlife.
Headquartered in Arizona, the organization boasts 33 company stores and a number of franchise stores.