Pam Sams On "What's the Deal with Social Security for Women?"
Marcia Mantell, pictured above, is passionate about Social Security. And she's on a crusade to educate women about how critical Social Security is in planning for their retirement. She launched her retirement consulting firm in 2005 and is considered a retirement industry go-to-person for expert-level Social Security and Medicare information.
Marcia recently sent me her latest book, What's the Deal with Social Security for Women. Fearing a technical, jargon-filled—i.e., boring—tome, I was pleasantly surprised to find it an approachable, easy, engaging (and sometimes humorous!) read. Although Roxanne and I don't usually post about the financial aspects of retirement, this subject is too important—and so misunderstood—that I felt I needed to interview Marcia for our blog.
Marcia, your latest book is What's the Deal with Social Security for Women. What's it about and why did you decide to write it?
This book is about the rules and regulations of Social Security and how it applies to women's real-life situations.
What pushed me to write the book is that after every presentation I give about Social Security—even after the question-and-answer session—there is always a line of 20 or more people who want to discuss their personal situations with me. I saw that people can't apply the rules to their own lives; they need help.
So, my approach in the book is to use real situations so that people can follow along and find their own. The book addresses a need I saw in the real world.
Who is this book for?
It's for women ages 50 to 70 and for their spouses, if they are married. It's for single women, married women, divorced women and widows—I have chapters on each of these circumstances. Every woman should be able to find herself in this book, without having to read the whole thing. My hope is that it will help women get their arms around this "beast."
What should women know about Social Security? Why is it an important component of their retirement planning?
We are completely disconnected from this program that becomes, especially for women, the most important source of income we have in our old age. It's stunning to me that we have left this fact out of our conversations.
Women need to know that:
Your benefit is based on your highest 35 years of earnings. If you drop out of the workplace—which we women often do to raise children or care for ill or aging family members—and you have zero earnings for some years and less than 35 years of earnings, then zeros go into your calculation. And less in means less out.
Social Security is a gigantic financial decision. We think about it as, "Hey, I'm 62—free money!" We need to understand that the decision you make in your early 60s—about when to take Social Security—impacts your livelihood in your 80s and 90s.
Understanding your Social Security statement is critical. For example, there is no bump up in your benefits over time. Many people see the benefit amounts for their various ages and think they get the increasing amounts as they age. What you get is a flat amount (with small cost-of-living increases some years)—which is the amount shown for the year you elect to start taking benefits.
You can't make your decision in a vacuum. What you do with Social Security impacts all the other money that you have saved. If you claim early, you are going to draw down your own assets sooner if you need them to make ends meet. If you wait to claim your highest benefit at age 70, you either need to keep working or have other income until that time.
Understand that Social Security is an antiquated system, created in 1935. In order for the math to work well for women, you either have to be an at-home mom or have a long, banner career with high-paying years. Social Security is designed to protect at-home wives and mothers via a spousal benefit, but it's not designed for the many of us today who can be a combination of a full-time career woman, working mother, wife and future Caregiver.
Those of us who play all those roles go in and out of earning years for Social Security because some years we may not have any income. We have our own benefit because we worked "enough"—and it's usually more than half of our spouse's benefit, so that spousal benefit isn't even available to us. But we don't get as much Social Security as our spouse, in most cases, because there is no accommodation for the five to 10 years we take out of the workforce to take care of kids, or to be a caretaker for a family member. When it comes to Social Security benefits, the general fact is that we just get less.
Bottom line, our roles have changed. The model hasn't.
What's the biggest mistake women make relative to Social Security?
There are a few, actually.
First, women often avoid learning about Social Security. I wish everyone would learn to read their statement and learn about the choices they have and the consequences of each.
Second, too many women claim too early—56% of women (and 51% of men) claim before their full retirement age, forever locking in permanent reduced monthly income. And one-third of retirees, both men and women, claim at the earliest possible time—age 62. When you claim at 62, you lose between 25% and 30% of your monthly income permanently. Although some people should claim early—like those with Chronic Illness, perhaps—the consequence of claiming early can be financially debilitating in later years.
Finally, women often don't know what their spouse is planning to do. If you're married, discuss and decide about Social Security together. Women should understand that their spouse's choice may have an impact on their benefits. If a woman doesn't have a long history of earnings, her best option may be the spousal benefit. So, the date when her spouse chooses to take Social Security (and the subsequent benefit amount) may impact her financial future too.
Given what you know about this subject, what's your advice to women?
Understand that this is a key financial decision that affects you into your 80s and 90s. Educate yourself.
Educate your daughters and your granddaughters early—they should begin thinking about Social Security and the impact of their working decisions as early as in their 20s. If you are close to retirement age (or already retired), it's probably too late to impact your own benefits now, but you can help future generations understand the rules, the benefits and the consequences of their choices.
What are your thoughts about Social Security and Marcia's comments and advice? Please share!
Marcia Mantell is the President of Mantell Retirement Consulting, Inc. To read Marcia's thoughts about how Baby Boomers are reshaping retirement, sign-up for her blog at boomerretirementbriefs.com. You can find What's the Deal with Social Security for Women on Amazon here.
Share this: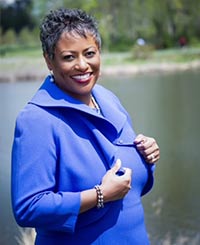 For over 20 years Pamela has been helping women improve their personal and financial wealth through solid financial life planning. Pamela's education and training enable her to help clients successfully navigate through the myriad of financial decisions they face during their lives. She focuses on helping her clients meet their financial needs and help them work to achieve financial security and greater retirement readiness.
Pamela has become a strong voice in the area of personal finance for women. Her knowledge in this area has made her a sought-after speaker. She has been quoted in articles in various financial publications.
Throughout her financial services career, she has acquired several client service and financial planning awards. She has membership in the Million Dollar Roundtable (MDRT). Membership in MDRT is a highly recognized mark of excellence and limited to only the most successful in the financial services profession. This places Pamela among the top professionals in the global life insurance and financial services industry. Pamela was featured in the Women in Wealth section of Fortune Magazine November 2020 issue as a top Wealth Manager in the Washington DC metro area.
She successfully completed the demanding requirements to receive a Chartered Retirement Planning Counselor certification through the College of Financial Planning. Pamela also holds a Behavioral Financial Advisor designation, awarded to advisors who have undergone training to learn to help clients make financial decisions using a rational, values-based approach. Behavioral Financial Advisor's integrate techniques founded in traditional finance, psychology and neuroscience to positively influence clients' spending and saving behavior in the presence of challenging emotions.
Pamela is married, lives in Chantilly, VA and has three children. She devotes her free time to her family, her church, enjoys reading and loves to sing.
Securities offered through Securities America, Inc., a Registered Broker/Dealer, Member FINRA (
SIPC
). Advisory services offered through Securities America Advisors, Inc., a SEC Registered Investment Advisory Firm, Pamela Sams, Investment Advisor Representative.