Who Inherits When There's No Beneficiary?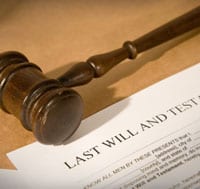 Dear Liza: My dad named his mother as his beneficiary, but she passed away in 2004.  My dad died in 2013 but didn't change his beneficiary. I am my father's only child and he has no wife, so who gets the money ? 
When a person dies and there's no surviving beneficiary named for an account, the assets would go that person's "estate." You don't say what kind of account this is, but the most common kind of account with beneficiary designations would be a Retirement account, so I'll make that assumption (though most beneficiary accounts work the same way).
What that means is that, if your father left a Will, the assets in the account that you are describing would pass to the beneficiaries under that Will. If he had no Will, and you are his only child, you would be the beneficiary under the laws of the state that your father lived and died. (These are called "intestacy" laws, and they spell out who inherits if there's no Will.)
But here's the thing, your father's estate may have to go through Probate before the assets can be transferred to you. This depends on the size of your father's estate, and where he lived and died. All states have what's called a "small estates limit," and if an estate falls below that limit, no probate is required.  I can't tell from your question how big or small your father's estate was, or where he lived. But that's the relevant question for you to ask. If you don't need to go through probate, there's a way for you to request that the account be transferred to you without a court order; if you do need to go through probate, you'll need a court order (which is how probate ends) to have the assets transferred to your name.  To find out the probate small estates limit in your father's state, and how to transfer assets if his estate is under that limit, start here.
Liza Weiman Hanks is an attorney who specializes in estate planning for families of all ages. She is a Certified Specialist in Estate Planning, Trust, and Probate Law by the State Bar of California Board of Legal Specialization. A graduate of Stanford Law School, she has also served as an instructor at the Santa Clara University Law School and practiced with the state of California and a prestigious Silicon Valley firm.

Liza is also the author of The Mom's Guide to Wills and Estate Planning,  The Trustee's Legal Companion and Busy Family's Guide to Estate Planning: 10 Steps to Peace of Mind. She lives with her family in Campbell, California. This article was previously published on her website. Email her here: asklizaquestion@gmail.com