Is Your Environmental "Glass" Half Empty, or Half Full?
Is Your Environmental "Glass" Half Empty, or Half Full?
By Diane MacEachern
NABBW's Going Green Expert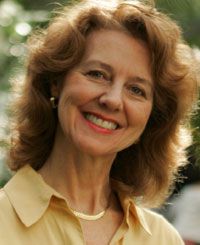 Are you hopeful about the state of the world, or filled with despair?
Japan\'s nuclear disaster is only the latest in a string of environmental catastrophes that might make anyone question whether we\'re doomed. I\'m normally a "glass half full" kind of person. But after almost four decades of working as an environmental activist, I can\'t help but wonder: "Are we making a difference?"  After all these years of public education, political campaigns, and citizen protests, are we any further along today than we were when the first Earth Day happened on April 1, 1970?
My neighbor is so pessimistic about progress on climate change that he\'s learning to shoot a gun to protect his vegetable garden.
Not so members of the Green Moms Carnival.
Harriet of Climate Mama expresses sentiments many of us feel when she writes: "I have to say, that in my "darkest moments" as we watch our new Congress seemingly delight in delivering body blows and exhibiting bad behavior as they attempt to set us back years on environmental policy…waves of disappointment wash over me…But then my hope is renewed. I am exposed to someone inspiring and optimistic, as I was recently on a visit to a public middle school in Brooklyn. I met so many incredible teachers, a dynamic principal and 1200 kids from all walks of life who feel empowered to "change the world." I am also heartened by the overwhelming and positive outpouring of support by my neighbors to our town's Environmental Commission's "call" for volunteers for a "Green Team" which will work towards a state certification program on sustainability. Maybe we just need to set a positive path, and people will walk down it."
Jennifer of The Smart Mama writes: "I read a news article that radioactive isotopes from Fukushima Dai-ichi had reached British Columbia and realized that the terrifying fear that radiation from the plant could spread worldwide might just be a catalyst for people to realize that we are completely interconnected when it comes to the environment. Completely interconnected. And if people realize that what happens overseas means consequences here, then perhaps the same people will make the connection that mercury from power plants on the United States' East Coast can indeed pollute the Pacific Ocean, or that improper disposal of electronic waste in Africa can cause harm, or any of the myriad of other issues.
"And that gives me hope."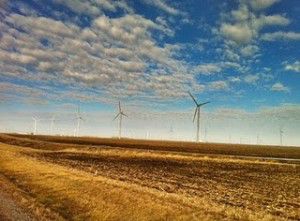 Don\'t miss the wonderful pictorial essay Linda of Citzen Green has compiled. She highlights the many reasons she is hopeful in her community, like the fact that northern Indiana, where she lives, is home to one of the largest wind farms in the U.S. (photo, right). Linda\'s also inspired by the many lanes of bike trails she can access, a public mass transit system that includes hybrid busses, and all the recycling that goes on. Where once people were concerned about the spread of communism, now folks worry about global warming and climate change, she observes. "I feel that we will find solutions before it is too late but we cannot do it sitting on our rear ends," says Linda, who has taken her own words to heart and become an environmental activist.
Karen of Best of Mother Earth has been buoyed by the arrival of spring — and the recognition that new generations of young people are rising up to become environmental standard bearers. "I could go deeply into the depths of despair if I focused on the multitude of bad things going wrong around me. Read the newspaper, watch the news, listen to the radio and the despair deepens even more.  Add to that the bad green things going on…and goodness we may as well give up – it's just too much…yet all said — our collective spirit, creativity and gumption have gotten us through many things before. Let spring remind us of the winter we just endured.  Rebirth has happened for thousands of years.  I feel hopeful. Gloom just isn't an option." Amen to that.
Meanwhile, Deanna at The Crunchy Chicken decided that, rather than mope about the disaster in Japan, she would try to inspire positive action in her community. "I did it," she posts. "I emailed all the families on our block to try to set up more of a social and security network for our neighborhood…I\'d love it if there were like-minded folks interested in garden work parties, canning sessions and knitting circles or whatever gets people together to chat and realize that they can rely on others in a pinch." Deanna decided being perceived as the "neighborhood nutjob" (her words) was a small risk compared to the tremendous benefits that could be created if people came together to support each other in ways small and big.
Amber of Strocel.com speaks passionately about how becoming a mom helped her focus more on the environment, raising concerns that sometimes seem insurmountable. "It's easy to feel despondent in the face of big problems. After all, I am just one person, and I certainly don't hold all of the solutions. But being despondent doesn't hold any answers, either. In fact, it holds additional dangers. When we don't feel that we can make a difference, we lose our incentive to act. The problems our world faces may be unimaginably huge. But if we all take little steps, slowly increasing our actions, we're far better off than if we trash the joint because we decide we might as well enjoy ourselves while everything falls apart around us.
"And so I choose hope," Amber writes. "Deliberately, methodically, and sometimes with great effort. I seek out things that remind me of the good-ness in the world. I consider what actions I can take to make things better, and I take them."
What about you? Are you hopeful that we\'re on the right path to choices that will protect us and the planet? Have you given up and retreated to your own world? Or are you somewhere in between?
Please share your story.
Diane MacEachern, the author of Big Green Purse: Use Your Spending Power to Create a Cleaner, Greener World, is passionate about empowering women to use their marketplace clout to protect the environment.

A best-selling author, successful entrepreneur, sought-after public speaker, and long-time conservationist, Diane encourages women to green the marketplace by choosing products whose use or manufacture offer the greatest environmental benefit. Through her new book, as well as her articles and speeches, she hopes to motivate women to take actions that will make a difference. She helps environmental organizations engage more women as members, activists, and donors. She also encourages companies to green their products to appeal to more women consumers.

The Big Green Purse website was named "2007 Best Green Website" by FutureNow. The site offers eco-lifestyle tips and shopping suggestions, as well as opportunities to join One in a Million, a campaign to encourage one million women to shift $1,000 of their household budgets to eco-friendly products and services.